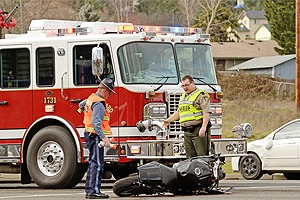 Motorcycle accidents happen regularly on Ontario roads, and it is very important, especially during these warm weather months, to always be especially careful when driving near a motorcycle. They just do not have the same protection as a driver in a car or truck.
A tragic accident this past weekend has brought a community together while shining a light on motorcycle safety throughout Toronto. Two local paramedics were fatally injured after another motorist crossed into the centerline and collided with 4 out of the 7 motorcyclists traveling in a group westbound. Two of the other motorcyclists are in serious condition.
To read the full article click here.
Motorcyclists face multiple risks on the road. There are many ways in which a motorcyclist and drivers can help reduce motorcycle related accidents. The most important thing for all drivers is to stay aware when you are driving, keep your hands on the wheel at all times, and your eyes on the road.
We recently wrote about this topic and named the top six safety tips all drivers should remember when sharing the road with motorcyclists, including:
Always Use Proper Turn Signals – if you are thinking about switching lanes or making a turn it is important to always properly signal – the sooner the better in order to allow a longer reaction time to motorcyclists.
Check Twice Before Switching Lanes – sometimes a motorcycle can be in your bling spot without you being aware. That's why it is important to always check twice for motorcyclists.
Keep a Safe Distance – when following behind a motorcyclist make sure to keep a safe distance to allow for a longer reaction time.
Avoid Distraction – anything that can cause you to lose focus on driving is considered a distraction. This can cause you to become unaware of your vehicle and those around you.
Our condolences go out to the family and friends of those involved in this tragic accident. Remember to safely share the road with motorcyclists and always check twice when making a turn!
If you or a loved one is injured in a motorcycle accident, call the Toronto motorcycle accident lawyers at Cariati Law for help. Our motorcycle accident lawyers have experience with these types of cases and will work hard to protect your rights.
You can reach Cariati Law at 905-629-8040 for a FREE, confidential consultation. When you call, you will speak with an experienced Toronto motorcycle accident lawyer for free.
At Cariati Law, you will never pay a lawyer's fee up front and you owe us nothing until we recover for you. That is the Cariati Law No Fee Promise.
Cariati Law – Passion Behind Every Case