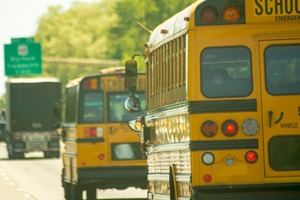 Many children travel to school by bus resulting in frequent stops and reduced speeds. A recent school bus accident reminds us of the importance of driver safety when sharing the road.
A driver of a car was killed during a head-on collision with a school bus this past week. The driver was said to be driving aggressively near the school bus when his vehicle veered into the incoming lane and struck the bus head on.
There were 14 students on the school bus at the time of the accident; thankfully none of the students were injured.
To read the full story click here.
School bus days bring extra congestion to the roads you may travel on, to get to and from work. It is important to always be patient, cautious and reduce your speed when a school bus is near.
Here are some important tips to remember when driving alongside a school bus:
When driving behind a school bus always make sure you are giving them extra space – school buses make frequent stops and this will give you more time to react.
Never pass a school bus, especially if the bus is stopped w/its flashers on
If the yellow or red lights are flashing and the stop arm is extended, stop!
Be alert when driving, know the traffic laws and speed limits!
Keep an eye on students who are exiting or entering the bus
Make sure students are safely on the sidewalk before you begin to drive.
If you or a loved one is seriously injured in a motor vehicle accident that was not your fault, call Cariati Law at 905-629-8040 for help. When you call, you will speak with an experienced Toronto Car Accident lawyer absolutely FREE.
At Cariati Law, we will investigate every detail of your car accident claim at no cost to you, and you owe us nothing until we win your case. All cases are handled on a contingency fee basis, which means you pay us nothing up front.
Let Cariati Law fight hard to protect your rights after a serious car accident.
Cariati Law – Passion Behind Every Case