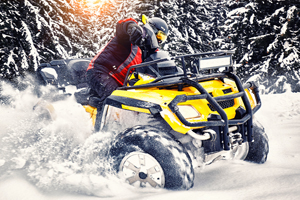 As the snow approaches, sport riders across Canada are preparing to take their snowmobiles and all-terrain vehicles (ATVs) out of storage to conquer their favorite winter trails. With this in mind, Cariati Law offers helpful reminders on how to stay safe this season.
According to the International Snowmobile Manufacturers Association, Canadians purchased over one-third of the 151,000 snowmobiles sold across the world in 2015—and there are currently more than 600,000 snowmobiles registered in Canada.
Know the Risks
The Canadian Institute for Health Information tells us as many as 50 people die in snowmobile or ATV accidents each year in Ontario and Quebec—and another 1,200 are treated for snowmobile injuries. They add snowmobile injuries tend to be more severe than those suffered in other winter sports.
Legal Requirements
The Ontario Ministry of Transportation reminds us everyone who drives a snowmobile or ATV in Ontario must be at least 12 years old and have the proper insurance coverage. The driver must also possess a valid driver's licence or motorized snow vehicle operator's licence. In addition, drivers must also register their snowmobiles with the Ministry of Transportation.
Helmets Required
Snowmobile and ATV drivers and passengers—including those on sleds towed by a snowmobile or ATV—must always wear a snowmobile helmet that meets the same approval standards as a motorcycle helmet. When in motion, the chin strap must be securely fastened.
Learn to Ride Properly
The Ontario Federation of Snowmobile Clubs offers driver-training resources to help new snowmobile riders gain their certifications—including classroom training in select communities across the province. Their website offers a detailed list of driver-training programs, dates, and locations.
We're Here to Help
If you or a loved one has suffered an injury in any kind of Winter Sport Accident, call Cariati Law at 905-629-8040 for help. When you call, you will speak with an experienced Toronto Winter Sport Injury lawyer absolutely FREE. We will investigate your accident, handle all the paperwork, and manage your entire claim—so you can focus on your recovery.
At Cariati Law our top accident lawyers will investigate every detail of your accident for free. All cases are handled on a contingency fee basis, which means you pay us nothing up front. In fact, we only get paid after you do, and if there is no recovery, there is no lawyers fee.
Contact one of our Toronto serious injury lawyers at 905-629-8040 for help today.
Cariati Law – Passion Behind Every Case