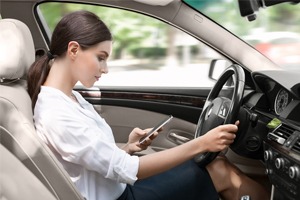 In the spring, warmer weather and longer days bring renewed activity—including to our roads. With the new season comes more drivers, more motorcycles, more bicycles, and more pedestrians. To keep you—and others—safe, a detailed list of safe-driving tips for spring is available here.
Roads are Busy
Driving in the spring means you will encounter more traffic everywhere you turn. Whether that traffic is human, animal, or mechanical; it's always best to stay alert for:
Children — More children are playing outside—and their movements can be unpredictable.
Runners — Runners may have headphones on—and be less aware of their surroundings.
Motorcycles — Motorcycles can easily disappear into a blind spot—so pay attention.
Bicycles — Cyclists follow the same rules as vehicle drivers—so show them equal courtesy.
Animals — Animals just out of hibernation are active at dawn or dusk—so remain alert.
Know Your Conditions
Road conditions and weather patterns are changing—and can often be unpredictable. To stay safe, always be alert—and never take anything for granted. Don't fall victim to:
Residual Sand — The sand that aids traction on ice can become a mess in spring rain.
The Wrong Tires — Don't rush to change winter tires, since ice can still cause problems.
Late-Season Storms — The freeze-thaw cycle of spring can make for hazardous conditions.
Damaging Potholes — A pothole can easily blow-out a tire, bend a rim, or ruin a strut.
Gravel Shoulders — Runoff and melting snow can leave a shoulder softer than usual.
Get Your Car in Shape
Our hard winters can accelerate vehicle wear-and-tear. With the change of seasons, a thorough inspection is always a sound idea. Be sure to check the following:
Fluid Levels
All Filters
Brake Components
Wiper Blades
Charging System
Tire Pressure
We Can Help
If you or a loved one has been injured in a car accident through no fault of your own, call Cariati Law at 905-629-8040 for help. When you call, you will speak with an experienced Toronto Car Accident Lawyer absolutely FREE. We will investigate your case, handle all the paperwork, and manage your entire claim—so you can focus on your recovery.
At Cariati Law, our top car accident lawyers will investigate every detail of your case for free. All cases are handled on a contingency fee basis—which means you pay us nothing up front. In fact, we only get paid after you do. If there is no recovery, there is no lawyers fee.
Contact one of our Toronto Car Accident Lawyers at 905-629-8040 for help today.
Cariati Law – Passion Behind Every Case