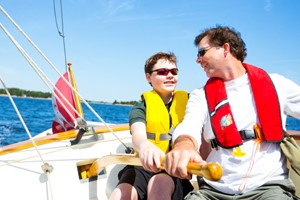 This past Monday, May 18th, was Victoria Day, which means that it is officially the beginning of boating season in Ontario. Our province's lakes and rivers provide a wonderful setting to get out and enjoy the water, but every year far too many residents go out unprepared or under-equipped, and catastrophic accidents occur as a result.
To remind all Ontario residents of the importance of proper water safety, Ontario Police are launching a campaign called Safe Boating Week, which will run from Saturday, May 16th to Friday, May 22nd.
One of the most important messages of Safe Boating Week is to remind the public that we see too many victims of boating accidents in Ontario every year. Enjoying the water should be a safe, relaxing and fun experience for everyone, and a majority of boating injuries can be avoided with proper safety precautions. Here are some statistics that serve as a troubling reminder of what can happen when boaters are unsafe or unprepared on the water:
In 2014, there were 20 boating deaths in Ontario.
Of those 20 deaths, 17 victims were not wearing a life jacket.
In 2013, there were 23 boating deaths in Ontario.
Of those 23 deaths, 20 of the victims were not wearing a life jacket.
These statistics demonstrate that nearly all fatal boating accidents can be attributed to failure to adhere to some basic boat safety rules. During Safe Boating Week, Ontario Police are emphasizing 5 important messages:
Always wear a lifejacket or Personal Flotation Device (PFD) while on the water.
Don't drink while operating a boat. This rule applies to any form of transportation, whether on land, sea or air.
Before you head out this summer, take a boating safety course and know your vessel's equipment inside and out. Click here to view a list of all Transport Canada-Accredited Course Providers.
Be prepared: make sure your vessel is up to date on all inspections and equipment, and be mindful of weather forecasts before you head out on the water.
Be wary of the dangers of cold water. Hypothermia can set in quickly in Ontario waters, especially early in the season. Be prepared and have a plan for the worst-case scenario.
Keeping the proper safety equipment on your boat is a critical first step to handling any situation that may arise on the water and ensuring that you and your passengers arrive back on land safe and sound. Transport Canada provides an entire Boating Safety guide which you can view here. This helpful resource outlines the required safety measures for boats, kayaks, sailboats, and any other vessel you may own or operate.
Remember: different sizes and shapes of vessels will require different safety equipment in order to properly operate. Consult the Transport Canada guide for a full list of regulations, but here are a few important tools to keep on-hand while boating:
One lifejacket or Personal Flotation Device (PFD) for every person on board.
A whistle to attach to each life jacket. This helps alert rescuers of your location in the event you find yourself in the water.
A set of flares and a functioning flashlight.
Navigation lights if you are planning on operating a boat after sunset or during periods of limited visibility.
A magnetic compass
A Bailer and manual bilge pump. These may only be mandatory for larger boats capable of taking on a significant amount of water. However, you should still have a plan of attack in the event your vessel springs a leak or starts taking on water.
By following some basic boating safety steps and spreading the message about the importance of Boating Safety in Ontario, we can all do our part to ensure that everyone that heads out on to Ontario's rivers, streams and lakes returns home safely. Ontario is home to some of the most beautiful waterfront scenery, fishing, and swimming in North America, and it is vitally important that we all have a chance to enjoy these resources responsibly.
If you or a loved one are injured in a boating accident caused by the negligence or inexperience of another person, you will need an experienced legal team to protect your rights. Boating accident cases are complex and require an experienced law firm such as Cariati Law. Our Toronto Boating Accident lawyers can help you make a claim for compensation for injury or wrongful death in any type of boating accident where negligence was involved.
If you find yourself in need of answers, call the lawyers of Cariati Law, Toronto, Ontario Accident and Personal Injury law firm, today at 905-629-8040. When you call, you will receive a FREE, confidential and no-obligation consultation with one of our experienced Boating Accident lawyers.
Let our team focus on protecting your rights as a victim while you focus on your physical recovery and well-being.
Cariati Law – Passion Behind Every Case