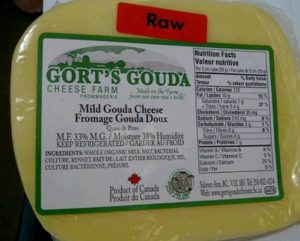 The Canadian Food Inspection Agency and Gort's Gouda Cheese Farm are warning the public not to eat their Mild Gouda Cheese described below because it may be contaminated with E. Coli.
This recall is the result of an ongoing food safety investigation initiated as a result of a recent outbreak. There may be recalls of additional products as the investigation at this facility continues.
There have already been several reported illness as a result of consuming this product. If you are unsure if your products is affected, do not take any chances and discard the item immediately. E Coli can be a very dangerous bacteria that is highly transmittable.
To get the full information on this recall as well as contaminated lot numbers, please click here to visit the Healthy Canadians webpage