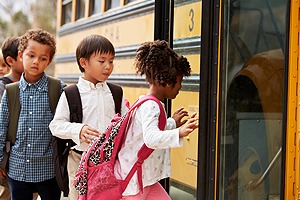 As students prepare for the upcoming school year, it is important to remind your child of proper road crossing and bus safety rules. Many children travel to school by the school bus or walking, which increases their chance of being struck by an inattentive vehicle.
With the school year starting in two short weeks, now is the time to speak with your children about school bus safety and road crossing safety.
In 2014 alone, pedestrian fatalities accounted for about 20% of total road fatalities. This high percentage reflects the severity that comes with pedestrian accidents.
Below are some tips to help keep your children safe while traveling to and from school, according to the Ontario Ministry of Transportation:
Only cross the road at marked cross walks.
Don't cross in the middle of the street or between parked cars or buses.
Look both ways before crossing in front of a bus.
Look left, right and left and wait for your bus driver to signal you to cross in front of the bus.
Enter the bus in a single file line.
Never push your classmates and always follow the bus driver's instructions.
If we all work together and communicate these simple tips, we can help keep our children safer. As a driver, please keep in mind these following tips while on your way to work:
Drive slowly and cautiously around school zones, residential areas, or any spot where children may be walking or playing.
Be aware of children that may dart out into the street.
Children require more time to cross the street, always be patient and mindful of this.
Drivers traveling either way on the road must stop for a stopped school bus when its red lights are flashing.
Always stop at a safe distance in front of a school bus and allow children to get on or off the bus and cross the road.
At Cariati Law, we are committed to protecting the rights of Ontario pedestrians injured through no fault of their own. If you or a loved one was injured in an accident caused by someone else's negligence, call Cariati Law today at 905-629-8040.
Our experienced Ontario Pedestrian Accident Lawyers will speak with you for FREE, investigate every detail of your accident, and fight to get you the maximum compensation for your injuries.
When you trust Cariati Law to handle your case, you will never pay a lawyer's fee up front, and you owe us nothing unless we recover for you. At Cariati Law, we don't get paid until you do.
Cariati Law – Passion Behind Every Case