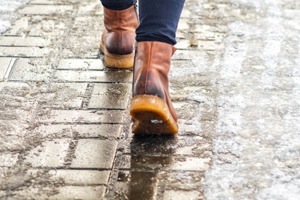 While winter brings beautiful sights of falling snowflakes and icicles, it also brings dangerous driving conditions. We take caution during such inclement weather, often delaying or closing our schools and offices. Though we are quite mindful of the risks of driving in severe weather, we rarely think about the precaution needed when doing something as simple as walking on the sidewalk or in a parking lot. It is often in such obvious places that snow and ice causes us to slip and fall, often resulting in injuries.
A Leading Cause of Nonfatal Injury
According to the CDC's National Center for Injury Prevention and Control, unintentional falling is the leading cause of nonfatal injury across almost all age groups.
The temperature only serves to make matters worse. Since most of us do not enjoy being outside in such extreme cold, we tend to move faster to get inside. In other words, cold temperatures and rushing – especially in crowded areas – puts us at risk.
Reducing Your Risk
Luckily though, there are certain things that you can do in order to diminish your risk of a slip and fall accident. Here are a few tips that can help to prevent slip and fall accidents and subsequent injuries:
Be aware of wet floors in buildings – especially near the entrance; people track in snow and slush
Assume that all surfaces will be somewhat slippery (black ice is extremely dangerous and cannot be seen)
Do not engage in anything that will distract you from being cautious and alert (e.g. sending a text; talking on the phone)
Be aware of any ice or snow that may fall from buildings or structures above you
Fight the urge to rush; Move slowly and take shorter steps
Wear proper footwear with heavy tread
Cariati Law Can Help
If you or a loved one has been injured in a slip and fall accident due to the negligence or recklessness of another person or entity, it can impact many aspects of your life. That's why it is so important to consult with an experienced and knowledgeable Slip and Fall Lawyer.
At Cariati Law, our top personal injury lawyers will handle your case for free – you pay nothing until we do. Contact one of our Toronto Personal Injury Lawyers at 905-629-8040 today!