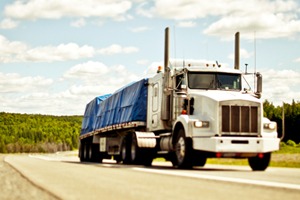 Operation Safe Trucking, a province-wide campaign focusing on enforcing rules of the road and moving violations for Commercial Motor Vehicles (CMV). Operation Safe Trucking will involve an innovative approach to spotting truckers and others, who are distracted or exhibiting other dangerous driving behaviors.
The OPP investigates thousands of preventable Commercial vehicle collisions every year, making this a serious road safety issue. So far this year, the OPP has responded to more than 5,000 transport truck-related collisions. And 67 lives were lost in 56 of the collisions.
Click here to read the full article.
Recently a man suffered a fatal injury after a crash between a car and a truck on Highway 401. The accident occurred just hours before the launch of "Operation Safe Trucking." The crash occurred around 5:20 a.m. in the westbound lanes of Highway 401 at Martin Grove Rd., closing all lanes, said Ontario Provincial Police Sgt. Kerry Schmidt.
This accident is a reminder to always stay alert while driving and never drive distracted.
Click here to read the full article.
"Every year, collisions that involve commercial motor vehicles are in the thousands and they result in significant loss of life," said Commissioner J.V.N. (Vince) Hawkes of the OPP.
Of 6,200 collisions investigated, OPP data shows transport truck drivers are at fault 65% of the time. OPP officers will begin riding with drivers of some transport trucks of their own in order to better observe what is going on at the wheels of similar-sized vehicles.
They say these transport trucks will not be pulling anyone over, but will instead be radioing ahead to officers in cruisers to let them know if they've spotted a distracted driver or one following too closely.
Here are some violations that officers will be keeping an eye out for.
Following too close
Speeding
Improper lane change
Distracted driving
Improper turns
Failing to yield right of way
Improper passing
Disobeying traffic control
Together, we can prevent deaths on our Ontario roads. At Cariati Law, we deeply care about your safety.
If you or a loved one is seriously injured in any type of motor vehicle accident, call Cariati Law at 905-629-8040 for help. When you call, you will speak with an experienced Toronto Car Accident lawyer absolutely FREE. We will investigate your accident, handle all of the paperwork, manage your entire insurance claim so you can focus on your recovery.
At Cariati Law our top car accident lawyers will investigate every detail of your Mississauga Canada car or truck accident for free. All cases are handled on a contingency fee basis, which means you pay us nothing up front. In fact, we only get paid after you do, and if there is no recovery, there is no lawyers fee.
Cariati Law – Passion Behind Every Case