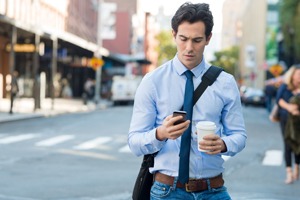 A new bill making its way through Ontario's legal system will start to fine pedestrians who are distracted while walking.
The Phones Down, Heads Up Act proposes fines for people caught using mobile devices while crossing the street.
Smartphones are a huge safety risk for drivers and they are proving to be a safety risk for pedestrians as well.
If the law passes, first offenders could face a fine of $50, while people who are caught a second or third time could result in $75 and $125 fines respectively.
To read the full article, click here.
In the first nine months of this year, 25 pedestrians died on Toronto streets. Last year, 43 pedestrians were hit and killed on city streets.
We want to make Ontario streets safer and this could combat the number of pedestrian accidents in our province.
According to Ontario's chief coroner, 11 out of 95 pedestrian deaths in 2010 involved people distracted by a cellphone or electronic device. A 2015 Toronto Public Health report found inattentive pedestrians were 40 percent more likely to be struck.
The act includes exemptions for pedestrians using mobile devices to call emergency services and for pedestrians who started a phone call before they entered a roadway.
When Baker presented the bill this Fall, he cited a 2015 report by Toronto Public Health that found inattentive pedestrians were 40 percent more susceptible to collision than attentive ones.
"Experts tell us that if you are distracted as a pedestrian, you are more likely to get hurt," he said. "If you walk the streets, you see people on their cell phones crossing the road."
If this bill is passed, there will also be a Ministry of Transportation-led awareness campaign about distracted driving.
Do you think that this bill will help reduce pedestrian deaths in Ontario?
Together, let's work to reduce pedestrian deaths on Ontario streets. At Cariati Law, we deeply care about your safety.
If you or a loved one is seriously injured in a car accident call Cariati Law at 905-629-8040 for help. When you call, you will speak with an experienced Toronto Car Accident lawyer absolutely FREE. We will investigate your accident, handle all of the paperwork, manage your entire insurance claim so you can focus on your recovery.
At Cariati Law our top car accident lawyers will investigate every detail of your Mississauga Canada car or truck accident claim for free. All cases are handled on a contingency fee basis, which means you pay us nothing up front. In fact, we only get paid after you do, and if there is no recovery, there is no lawyers fee.
Cariati Law – Passion Behind Every Case