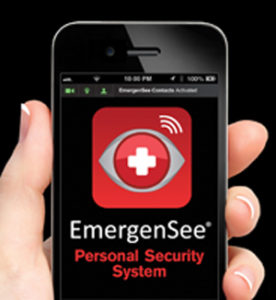 We can all watch out for one another much better now that we're all walking around with GPS devices in our pockets. But even with GPS being on all of our mobile devices, how do we stay as safe as possible? There are now a vast selection of apps designed specifically to help us stay safer. Using GPS, SMS, video, audio, alerts, alarms, and a variety of other features, these apps aim to keep you safe.
Whether you're going on a blind date, on a run, to a late movie, or just walking on campus at night from the library, it's worthwhile to have one of these apps on your phone. This will certainly give you and your family peace of mind.
Some of these apps are very sophisticated and provide exceptional safety features. For example, the Emergensee app, which is a FREE download will turn your phone into a personal bode guard. If you feel like you are in eminent danger, just tap the app and your phone immediately begins to stream live video, live audio, pinpoints your exact location, GPS locates and motion tracking engages. Let's say someone if following your daughter on campus at night. And she becomes scared. She just taps the app and her phone records her entire situation and it is sent directly to her own personal pre-selected contacts. And the entire incident is stored in the clouds.
Emergensee has a FREE download that you can add three personal contacts to notify. Or they have 24/7 monitoring solution, so that you and your entire family can have 24/7 security monitoring right on your person at all times.
Our three favorite safety apps are Emergensee, Guardly and B Safe. You can download any of these safety apps for free. These safety apps are like having your own personal bodyguard with you at all times.
The lawyers are Cariati Law are strong safety advocates and want you and your family to be as safe as possible at all times. A personal safety app on your mobile device is a great solution.
The experienced lawyers at Cariati Law can help you or a loved one when injured in a car accident, a slip & fall accident or any type of accident. Call Cariati Law with offices in Toronto and Mississauga for a free, no obligation, confidential consultation at 289-807-5165. There is never a fee for our services unless we win for you.
Our lawyers are committed to protecting your rights. When injured, Make One Call to Cariati Law.
Cariati Law, Passion Behind Every Case.