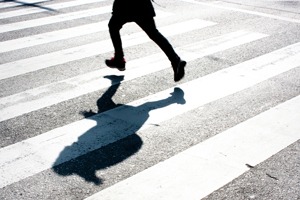 Toronto police say a pedestrian was left with serious injuries after being struck by a vehicle near Yonge Street and Eglinton Avenue Sunday evening.
This accident comes after the launch of pedestrian safety enforcement and education campaign earlier this year.
So far in 2018, there have been over five pedestrian deaths in Ontario.
Police say they received numerous calls notifying them about an accident involving an injured pedestrian at Yonge Street and Erskine Avenue around 6:30 p.m., with some calls saying the pedestrian was thrown a few meters.
The victim was taken to the nearest trauma center with the help of police and paramedics.
To read the full story, click here.
Here are some tips to stay safe on Toronto roads:
Avoid crossing the street not at a designated crosswalk
Cross the street in well-lit areas
Avoid distractions, such as looking at your phone when walking or crossing the street
Never assume a driver will give you the right away
If you are walking at night, wear reflective clothing
At Cariati Law, we deeply care about your safety.
If you or a loved one is seriously injured in any type of motor vehicle accident, call Cariati Law at 289-807-5165 for help. When you call, you will speak with an experienced Toronto, Ontario Car Accident lawyer absolutely FREE. We will investigate your accident, handle all of the paperwork, manage your entire claim so you can focus on your recovery.
At Cariati Law, our top car accident lawyers will investigate every detail of your car accident for free. All cases are handled on a contingency fee basis, which means you pay us nothing up front. In fact, we only get paid after you do, and if there is no recovery, there is no lawyers fee.
Cariati Law – Passion Behind Every Case