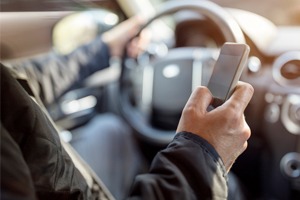 Ontario Provincial Police have launched a traffic safety campaign to remind drivers to put down their phones and pay attention.
Officers will be patrolling the streets of Ontario looking for distracted drivers because of the upcoming March Break.
The aim of the campaign is to reduce the number of crashes, injuries and fatalities resulting from inattentive motorists, OPP Supt. Tony Cristilli said.
To read the full story, click here.
In 2017, the OPP investigated 83 motor vehicle deaths in which driver distraction was a factor.
In comparison, there were 75 road deaths related to speed, 49 road deaths related to lack of seat belt use, and 46 road deaths related to alcohol and drugs.
Since 2009, when provincial distracted driving laws took effect, a total of 692 people have died as a result of distracted driving, he said.
Here are some tips to help keep your focus on the road ahead:
Use your cell phone for emergency situations only
Limit your level of distractions in the car while driving
Avoid eating while driving
Do your multitasking outside of the car
At Cariati Law, we deeply care about your safety.
If you or a loved one is seriously injured in any type of motor vehicle accident, call Cariati Law at 289-807-5165 for help. When you call, you will speak with an experienced Toronto, Ontario Car Accident lawyer absolutely FREE. We will investigate your accident, handle all of the paperwork, manage your entire claim so you can focus on your recovery.
At Cariati Law, our top car accident lawyers will investigate every detail of your car accident for free. All cases are handled on a contingency fee basis, which means you pay us nothing up front. In fact, we only get paid after you do, and if there is no recovery, there is no lawyers fee.
Cariati Law – Passion Behind Every Case