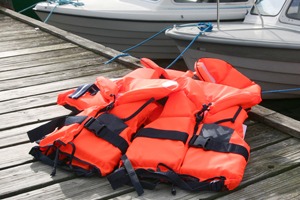 With summer around the corner, many people will soon enjoy time out on the water in their boats and personal watercrafts. Unfortunately, this popular summer activity can be dangerous if the proper precautions are not taken.
Every year hundreds of people die as a result of boating-related activities. Almost 65% of these deaths involve the use of alcohol.
37% of boaters in Canada admit to consuming alcohol every time they boat. 66% report they drink alcohol sometimes when boating. Alcohol is a factor in over 40% of recreational boating fatalities.
For more information, visit the Red Cross website here.
Here's some tips to make sure that one of summer's most fun activities is also safe.
Wear a Life Jacket
Wearing a life jacket is a simple—yet incredibly important—action that can save lives.  It's the law to carry one that fits each person in the vessel, but Red Cross recommends wearing it every trip, for the whole trip.
Get Licensed
One major contributor to boating accidents—something many take lightly—is lack of experience. Those operating boats should have a boating license, which requires a test of operator skill.
Stay Sober
Avoid drinking on the water. Wait until you are off the water before consuming alcohol. Remember, if you drink after a day of boating, be sure you have a designated driver for your vehicle.
We're Here to Help
If you or a loved one has been seriously injured in any type of boating accident, call Cariati Law at 905-629-8040 for help. When you call, you will speak with an experienced Toronto Personal Injury lawyer absolutely FREE. We will investigate your accident, handle all the paperwork, and manage your entire claim—so you can focus on your recovery.
At Cariati Law our top accident lawyers will investigate every detail of your accident for free. All cases are handled on a contingency fee basis, which means you pay us nothing up front. In fact, we only get paid after you do, and if there is no recovery, there is no lawyers fee.
Contact one of our Toronto serious injury lawyers at 905-629-8040 for help today.
Cariati Law – Passion Behind Every Case