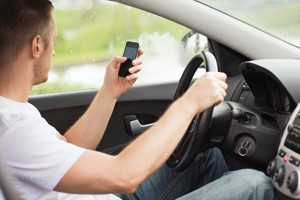 Despite the best efforts of Police, community leaders and awareness organizations throughout Ontario, Distracted Driving remains a very serious and widespread problem on our Province's roads and highways. Police are responding to more accidents than ever before involving motorists that were texting, making phone calls or otherwise not paying attention while behind the wheel.
In order for all Ontario motorists to safely and responsibly share the road, all drivers must remain attentive and pay close attention to their surroundings while driving.
In Toronto's Police District 41, officers launched a new offensive against Distracted Driving last week in an effort to catch and prosecute drivers that do not pay attention to the road.
In Ontario, it is illegal for motorists to talk, text, or email on their cell phones, or any other portable mobile device, while driving. Lawmakers in Ontario recently joined the effort to prevent Distracted Driving by passing tougher legislation that will increase fines and penalties for motorists who do not follow this simple road safety rule.
In District 41, a section of eastern Toronto comprised of neighborhoods including Dorset Park, Oakridge, Clairlea-Birchmont and others, Police were on the lookout for distracted drivers this past weekend. This effort, called the Reducing Collisions Campaign, placed officers at high traffic locations throughout the district with the express purpose of catching distracted drivers, and drivers that exhibit unsafe behavior on the road. The Reducing Collisions Campaign ran Monday, August 10th through Sunday, August 16th.
These types of safety efforts are an extremely important aspect of reducing the number of driver fatalities in Ontario associated with distracted driving. Here are some statistics that demonstrate just how serious this problem has become:
In 2013, the OPP reported that Distracted Driving was the number one cause of driver fatalities on Ontario roadways.
78 motorists were fatally injured in 2013 in accidents involving a distracted driver in Ontario.
In March of this year, the OPP estimated that Distracted Driving was the cause of roughly 25% of all fatal vehicle accidents in Ontario thus far in 2015.
Distracted Drivers are up to 3 times more likely to be involved in an accident than drivers that are paying attention to the road.
Don't glance down while driving to check a call, text or email
A brief look away from the road can be deadly.
Traffic accidents can occur in the blink of an eye. If you or a loved one has been injured in a car accident that was not your fault, you need an experienced Toronto, Ontario Car Accident and Personal Injury lawyer by your side.
The experienced car accident lawyers at Cariati Law will fight to protect your rights after an accident. Call Cariati Law at 905-629-8040 to speak with an experienced, compassionate Toronto Car Accident lawyer for FREE.
A Car Accident claim can be complicated, with many details to handle. That's why you need the experience of Cariati Law to help defend your rights as a victim and purse the compensation you deserve for your injuries.
Cariati Law – Passion Behind Every Case