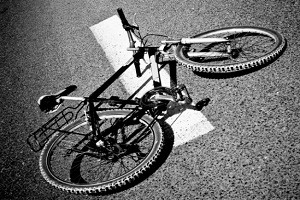 A 61-year-old Ontario resident sustained fatal injuries after being struck by a car while riding his bicycle near Clarington on the morning of Sunday, April 5th. Police are reporting that the cyclist was headed westbound on Bloor Street at around 11am on Sunday when he attempted to make a left turn on to Solina Road. Tragically, the rider was struck while attempting the turn by a passenger vehicle that had tried to pass him in the eastbound lane.
For cyclists, turning left across multiple lanes of traffic is one of the most dangerous and difficult maneuvers to complete and leads to a high percentage of collisions with motor vehicles. To prevent these types of accidents from occurring, it is important for both bicycle riders and motorists to familiarize themselves with the universal bicycle hand signals. Using these signals makes cyclists more visible to other drivers and alerts surrounding vehicles of their intentions.
Proper communication on the road is a critical step towards preventing motor vehicle collisions with cyclists. In fact, an analysis of all cycling deaths in Ontario from 2006 to 2010 found that nearly 100% of all fatal accidents were preventable. This study contained some other very interesting statistics that shed some light on the problem of cycling accidents in Ontario:
A majority of cycling fatalities occurred on dry roads with clear visibility. Low visibility and poor road conditions did not appear to significantly impact the number of accidents that took place, meaning that driver or cyclist error is the prevailing factor in most accidents.
Only 27% of fatally injured cyclists were wearing a helmet at the time of the accident. In Ontario, helmet laws are mandatory only for citizens under 18 years of age. However, wearing a helmet drastically reduces a rider's risk of suffering brain damage or fatal injury in the event of a collision.
86% of fatally injured cyclists were male and more than 50% were riders over the age of 45. This illustrates that older men who cycle for recreation or exercise are the group at highest risk of suffering a serious accident.
As spring approaches, the number of cyclists on Ontario's roads and highways will steadily increase. Cycling is a wonderful way to stay active and commute to work or school in an environmentally conscious manner, but riders must be aware that they assume a great deal of risk when they choose to share the road with larger passenger vehicles. For this reason, it is crucially important for both motorists and cyclists to be aware of the best practices for safely sharing the road.
Click here for a full breakdown of cycling safety tips and best practices from the Ontario Ministry of Transportation and stay safe while biking on Ontario's roads and highways this spring and summer.
If you or a loved one has been injured while walking, jogging or cycling in Ontario, it is vitally important that you have a dedicated and experienced legal team by your side. At Cariati Law, Toronto, Ontario Accident and Personal Injury law firm, we will advocate for your rights as a victim and fight to get you the maximum compensation for your serious injuries.
Call Cariati Law today at 905-629-8040 to speak with a compassionate and experienced lawyer for FREE. We will provide you with a no-cost, no-obligation consultation and help you understand the details of your case.
Cariati Law will represent your rights to the fullest to ensure you receive the proper compensation and care for your serious injuries. Call today to learn what our firm can achieve for you and your family.
Cariati Law – Passion Behind Every Case