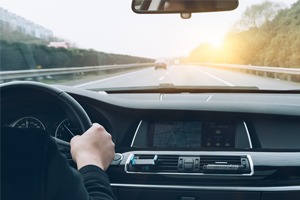 As technology continues to advance, so does auto safety features. According to a survey by Consumer Reports, most drivers with advanced safety technologies reported that these features helped to prevent them from crashing.
According to a 2015 survey by America's Insurance Institute for Highway Safety, there were 7,700 fewer driver deaths in 2012 than there would have been had vehicle technology not advanced since 1985.
No longer are safety features a thing of luxury. Most buyers now expect the latest safety features. Here are the top five safety features of today:
1. Adaptive Cruise Control (ACC)
Adaptive cruise control utilizes sensors and radar in order to locate the vehicle in front of yours and help you to maintain a safe distance from it. In other words, if the car in front of you accelerates, it too accelerates; if it brakes, your vehicle will also slow down. Furthermore, if the system finds that a crash is imminent it will heavily brake and tighten the seatbelts to keep you safe.
2. Automatic Emergency Braking (AEB)
Not unlike adaptive cruise control, AEB begins to brake on behalf of the driver should it deem that a crash is imminent and that the driver of the vehicle isn't reacting. The Insurance Institute for Highway Safety has shown that rear-end collisions are reduced by half when a vehicle is equipped with AEB
3. Blind Spot Detection
Sometimes it can be difficult to see vehicles if they are next to a certain part of your car. Blindspot detection alerts you when vehicles approach you on either side. This assists drivers in alerting them of what they may have missed when looking over their shoulder. Lights on the door mirrors illuminate when someone is driving in your blind spot.
4.Lane Departure Warning and Lane Keep
A lane departure warning will sound or buzz to notify the driver that he or she is crossing over the white lines or leaving the lane that they are presently driving in. Lane keep then helps to steer you back into your lane should you begin to drift out of it. According to the same survey by Consumer Reports, over 30 percent of owners with lane departure warning and lane-keeping assistance systems reported that it helped them avoid at least one crash.
5. Rearview Camera
Rearview cameras work to allow drivers to see everything that is behind them so that they can prevent injury of those walking, biking, or driving behind them when reversing.
Technology Continues to Advance
With so many car manufacturers jumping into the technology "pool" full force, facial recognition is even predicted to come with most cars in just the next five years. This software can determine whether a driver is paying attention. If the software determines that the driver's level of alertness is low, a buzzer will sound to notify you.
Safety exit assist is also predicted to show up in more cars over the next decade. This feature prevents kids (or those in the back seat) from being able to open back doors when the technology determines that bicycles or other vehicles are approaching from behind.
If you or a loved one has been injured in an auto accident, it can have a profound effect on your physical, emotional, and financial wellbeing. You should not have to pay the price. At Cariati Law, our top personal injury lawyers will handle your case for free – you pay nothing until we do. Contact one of our Toronto Personal Injury Lawyers at 905-629-8040 today!