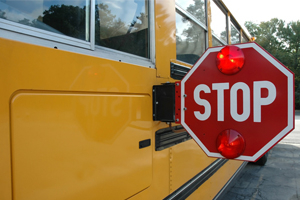 In a move that could—with enough support—soon spread to other provinces, Prince Edward Island has implemented the nation's strongest penalties for drivers who illegally pass a school bus. A full article examining these reforms is available here.
Drivers in Prince Edward Island (P.E.I.) will now lose their licences if they illegally pass a school bus. They will also face the highest fines in Canada—and face more demerit points on their driving record than ever before. Such legislative action could potentially spread to other provinces.
Current Law
Under new rules taking effect in December 2018, drivers who fail to stop for a school bus when required will now:
Face a three-month suspension of their licence
Receive 12 demerit points on their driving record
Be forced to pay a $5,000 fine for the offence
Previously, the typical punishment was eight demerit points and a $1,000 fine—without any suspension. To have their licence reinstated, a driver must pay a reinstatement fee, meet with highway safety officials, and successfully pass a defensive driving course. If reinstated drivers receive any demerit points within the following year, they will be suspended once again.
Authorities note they are also considering additional prevention measures—including additional demerit points for using a hand-held device while driving. Parents and school bus drivers have called for increased penalties after a slew of accidents and near misses involving school children in recent years. Officials in P.E.I. state they will continue to work to prevent the dangers of passing school buses—and will work with police to implement strong solutions.
We're Here to Help
If you or a loved one has been seriously injured in any type of pedestrian accident, call Cariati Law at 905-629-8040 for help. When you call, you will speak with an experienced Toronto Pedestrian Accident Lawyer absolutely FREE. We will investigate your accident, handle all the paperwork, and manage your entire claim—so you can focus on your recovery.
At Cariati Law our personal injury lawyers will investigate every detail of your accident for free. All cases are handled on a contingency fee basis, which means you pay us nothing up front. In fact, we only get paid after you do, and if there is no recovery, there is no lawyers fee.
Contact one of our Toronto serious injury lawyers at 905-629-8040 for help today.
Cariati Law – Passion Behind Every Case