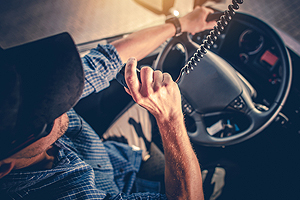 Distracted and unsafe driving causes thousands of car accidents each year resulting in thousands of people suffering serious injuries. The emotional fallout that families and loved ones experience is horrific, and the cost of medical care, lost time from work, property damage and much more is very stressful, and difficult to handle.
Recently the OPP implemented a safe truck driving program focused on identifying dangerous commercial vehicles and drivers. The results were astounding and show how many truck drivers, and their commercial vehicles should not be on the roads.
Distracted driving is never okay — in a recent traffic safety blitz, the OPP charged a large number of truck drivers with various offences due to distracted driving and other unsafe transport offences.
Operation Safe Trucking was a province-wide campaign focusing on enforcing rules of the road and moving violations for Commercial Motor Vehicles (CMV).
Operation Safe Trucking took place across Ontario from December 11-15, 2017, and the results might surprise you.
Over the five-day safety blitz, officers stopped close to 3,500 commercial vehicles, resulting in 1,836 charges and took 71 unsafe trucks out of service and off the road.
Click here to read the full article.
The OPP drove transport trucks on highways across the province during the blitz for a better vantage point and to get more unsafe truck drivers off the roads. Further, the OPP used aircraft and sprinter vans to help see aggressive truck drivers.
Of the 1,836 total charges, 223 were for distracted driving, 336 were for speeding, 111 for following too close, and 185 for other moving violations. Another 185 were charged for having CMVs with defective equipment. The highest number of charges, however, were for improper documentation — 537 drivers were charged.
"Our Operation Safe Trucking enforcement results are the latest reminder that more work needs to be done to reduce the serious public safety risks posed by some commercial motor vehicle drivers," said OPP Commissioner J.V.N. (Vince) Hawkes in a recent statement.
The OPP investigates thousands of preventable Commercial vehicle collisions every year, making this a serious road safety issue. In 2017, the OPP has responded to more than 5,000 transport truck-related collisions. And 67 lives were lost in 56 of the collisions.
Together, we can prevent deaths on our Ontario roads. At Cariati Law, we deeply care about your safety.
If you or a loved one is seriously injured in a car accident with a big truck, call Cariati Law at 905-629-8040 for help. When you call, you will speak with an experienced Toronto Car Accident lawyer absolutely FREE. We will investigate your accident, handle all of the paperwork, manage your entire insurance claim so you can focus on your recovery.
At Cariati Law our top car accident lawyers will investigate every detail of your Mississauga car accident without any upfront costs. All cases are handled on a contingency fee basis, which means you pay us nothing up front. In fact, we only get paid after you do, and if there is no recovery, there is no lawyers fee.
When injured in a serious car accident call the caring lawyers at Cariati Law for help.
Cariati Law – Passion Behind Every Case