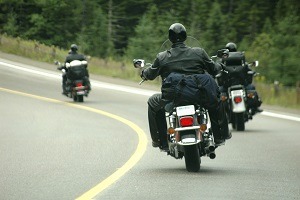 Being able to soak up the sun and feel the cool spring air on your motorcycle can make any day a memorable experience. As we begin to see more motorcycles on the roads, we need to remember that safety should always be at the forefront for all drivers.
Operating a motorcycle takes a different set of skills than driving a motor vehicle, but the laws of the road apply to every driver.
Motorcycle safety begins with wearing a helmet and the appropriate safety attire, as well as following the laws in place for your protection. Each state has a set of laws all motorcyclists must abide by when on the road. In Canada the following are in place, including:
All motorcyclists and their passengers are required to wear helmets.
All motorcyclists must have a motorcycle endorsement – this can be placed on your regular license.
Each motorcyclist should complete motorcycle training and pass a motorcycle driving test in order to obtain a motorcycle endorsement or license.
When on a highway each motorcycle must have 2 lighted lamps, 1 white lamp in the front and 1 red lamp in the rear.
Whether you ride your bike to work, join a biker league, or simply enjoy the scenery throughout Canada, remember to be a safe as possible.
At Cariati Law, we want to provide motorcyclists throughout Canada with some key safety tips. According to the Canada Safety Council motorcyclist should:
Always wear a helmet – your helmet should be equipped with a face shield and protective eye wear. Wearing a helmet is the best way to protect yourself from a severe head injury.
Wear appropriate gear – make sure to wear protective gear and clothing in order to minimize the amount of injuries in case of an accident. Wearing leather garments, boots with nonskid soles & gloves can help protect your body.
Follow the traffic rules – Make sure to obey all traffic rules – be aware of the speed limits and all of the local traffic laws.
Communicate properly with all drivers on the road – make sure you are signaling properly and your brake and headlights are working.
Make sure you are educated – a driver needs to complete all the formal riding education programs and riding courses from time to time to stay updated and make sure their license is up to date.
Preparing to ride – make sure your motorcycle is in proper riding condition – check the tires for any cracks or bulges, under the motorcycle for signs of gas or oil leaks, and the headlights, taillights and signals are all working properly.
If you or a loved one suffered injuries in a motorcycle accident that was not your fault, Cariati Law may be able to help. Call us today at 905-629-8040 for a FREE, confidential consultation with one of our experienced Ontario Motorcycle Accident lawyers.
When you call Cariati Law, one of our dedicated lawyers will review every detail of your situation at no cost to you. We will fight hard to protect your rights and secure the maximum compensation for your injuries, medical bills, lost wages and damaged property.
All motorists have a responsibility to safely share the road. If you or a loved one were hurt in an accident that was not your fault, all Cariati Law today. At Cariati Law, you will never pay a lawyer's fee up front, and you owe us nothing unless we recover for you.
Cariati Law – Passion Behind Every Case