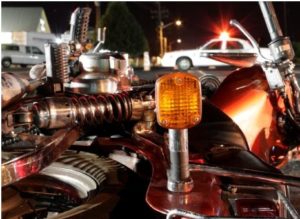 Motorcyclists are very vulnerable on the roads. They have minimal protection against other vehicles, distracted drivers, weather conditions and more.
When a motorcycle accident occurs and a motorcyclist is injured, it can be difficult to prove who is at fault.  Occasionally liability in a motorcycle accident may be cut and dry; however it is common that many causes are not easy to determine instantly.
Sometimes motorcycle accidents occur and there is no physical contact with another vehicle. This may complicate the legal process a bit, but it does not mean that the accident wasn't caused by the other driver's negligence.  Motorcyclists are often forced to drive off the road or dangerously lay their bikes down to avoid collisions with drivers who are not paying attention or driving dangerously. In cases like this, even though the other driver did not physically hit the motorcyclist, they are still to blame for the accident and any injuries.
In other situations dangerous road conditions such as potholes or treacherous roadways may be to blame. These conditions may also play a role in any motorcycle accident, contributing to the severity of injuries to the motorcyclist.  Additionally, many drivers making a left hand turn do not see a motorcyclist, therefore causing an accident.
A skilled personal injury lawyer will research and analyze the motorcycle accident facts and figure out who was at fault. An experienced personal injury lawyer will conduct an accident investigation and reconstructions, if necessary to prove the fault of the accident to the insurance company. Remember, it is always better to hire an injury to handle your motorcycle accident insurance claim, then to try to handle your claim on your own.
This is a guest blog post from our lawyer friends at Dagget Shuler Lawyers at Law