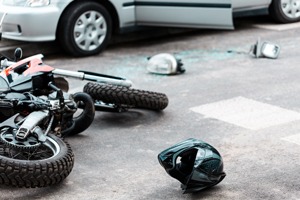 According to a recent report, motorcycle accidents in Canada are far more likely to result in serious injury or death than car accidents. The report also suggests that the overall injuries sustained on motorcycles are far more costly—and take much longer—to treat. You can read a detailed article on the study here.
Greater Risk of Injury
Information gathered in Ontario between 2007 and 2013 detailed 281,826 Canadian drivers injured in car accidents and 26,831 riders hurt in motorcycle collisions. It revealed that cyclists are three times more likely to sustain injuries—and ten times more likely to suffer serious injuries—than drivers. The study found an injury rate of 2,194 out of 100,000 for cyclists—compared to 718 per 100,000 drivers.
Higher Cost of Treatment
To make matters worse, the research also suggests that injuries suffered in a motorcycle accident take longer—and cost far more—to treat. Medical bills over the first two years average $5,825 Cdn for cyclists—versus $2,995 Cdn for drivers. These figures do not account for any other costs, such as pain and suffering or lost wages.
Greater Exposure Equals Greater Risk
While helmets can greatly reduce the chances of a rider suffering severe head trauma, the typical motorcyclist is far more exposed to injury than drivers within an enclosed automobile—increasing the risk of wounds to the thorax, abdomen, and extremities.
We're Here to Help
If you or a loved one has been seriously injured in any type of motor vehicle accident, call Cariati Law at 905-629-8040 for help. When you call, you will speak with an experienced Toronto Motorcycle Accident lawyer absolutely FREE. We will investigate your accident, handle all the paperwork, and manage your entire claim—so you can focus on your recovery.
At Cariati Law our top car accident lawyers will investigate every detail of your car accident for free. All cases are handled on a contingency fee basis, which means you pay us nothing up front. In fact, we only get paid after you do, and if there is no recovery, there is no lawyers fee.
Contact one of our Toronto serious injury lawyers at 905-629-8040 for help today.
Cariati Law – Passion Behind Every Case