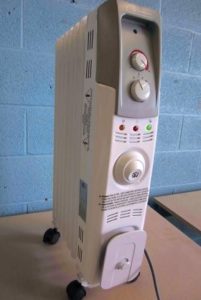 Recall Description
This recall involves Garrison 1500W oil-filled heaters. The recalled units can be identified by a silver label attached to the underside of the unit bearing the model number and a manufacturing date code.
Approximately 110,000 units of the recalled oil heaters were sold exclusively at Canadian Tire stores across Canada between September 2010 to September 2013. All affected heaters were imported from China.
Reason for Recall
Some units may overheat and burn the comfort switch located inside the metal cage, posing a severe fire hazard. Health Canada has not yet received any reports of injuries.
Consumer Remedy
If you believe you have bought one of these defective heaters, you should stop using the affected unit immediately and return it to your local Canadian Tire store for an exchange or refund. If you are unsure if you item is affected by this recall contact Midea International's Customer Support line at 1-855-204-5313, Monday through Friday from 10:00 a.m. to 5:00 p.m. EST.
For more information on this recall, including affected model numbers, please visit the official Healthy Canadians recall page.
If You Have been Injured by a Defective Product
If you believe you have been injured by a defective product, make sure to contact a skilled Toronto personal injury lawyer right away. An experienced personal injury lawyer will be able to stand up for your rights to make sure you receive the help you need.
The experienced lawyers at Cariati Law are here to help. If you or a loved one have been injured in any type of accident, call Cariati Law with offices in Toronto and Mississauga for a free, no obligation, confidential consultation at 289 807 5165. There is never a fee for ours services unless we win for you. Our lawyers are committed to protecting your rights. When injured, make one call to Cariati Law.
Cariati Law, Passion Behind Every Case.