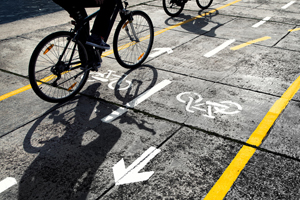 Bike events will be held throughout the Greater Toronto & Hamilton areas in celebration of 2017 Bike Month, held May 29- June 30th. Bike month is a way to bring the community together to raise awareness of the benefits of biking, as well as educate the public on bike safety.
Last year alone over 541 cyclists were hit by motor vehicles on Toronto streets showing just how dangerous biking can be. Canada Bike Month in May and throughout June will promote biking safety, rules & regulations of biking, help educate kids on bike safety, as well as teach drivers of motor vehicles how to be more aware of bikers.
Whether you ride your bike to commute to work or school, for daily exercise, or simply to enjoy the spring weather, you are faced with a much higher risk of being seriously injured in a traffic accident.
There are many upcoming events in Toronto geared towards helping the biking population, including:
Spring Bike Check Up –  May 6th @ Danforth/Broadview, 11:30 AM – 12:30 AM
May 7th @ College & Spadina, 2 Pm – 4 PM
The Spring Bike Check up is perfect to make sure your bike is ready for Bike Month. The check up includes making sure your bike is clean, greased and ready to ride.
24th Annual Ride for the Rouge – May 13th @ Meadovale Road & Sheppard Ave East,
9 AM – 2 PM
This ride supports the Rouge Valley Conservation Centre and its educational programs for children and youth in the community.
Ride of Silence – May 17th @ Bloor/Spadina, 6:45 PM – 8 PM
This is a short that will take place from Bloor & Spadina to Nathan Phillips Square, in memory of all the cyclist we have lost.
To view the full list and see event details click here.
Here are a few safety tips to keep in mind to help you avoid being involved in a bicycle accident:
Wear a properly fitted helmet
Adjust your bike to fit you
Make sure your equipment works properly
Obey all traffic laws
Make sure you are visible at all times
Always ride with the flow of traffic, not against
If you or a loved one is seriously injured in a bicycle accident that was not your fault, you will need the protection of Cariati Law. Our Toronto bicycle accident lawyers have experience with these types of cases, and will work hard to seek the justice and the recovery you deserve.
Call Cariati Law today at 905-629-8040 for a FREE, confidential consultation. When you call, you will speak with an experienced Toronto Bicycle Accident lawyer for free. We will investigate every detail of your accident and fight hard to protect your rights.
At Cariati Law, you will never pay a lawyer's fee up front and you owe us nothing until we recover for you. That is the Cariati Law No Fee Promise.
Cariati Law – Passion Behind Every Case