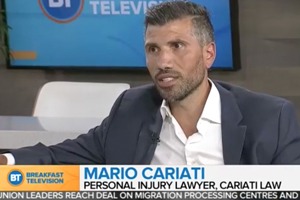 Have you ever been in an accident and didn't know what to do? Collisions happen every day and even a minor fender-bender can be a nerve-wracking experience.
"The most important thing to do is to stay calm when an accident happens," said Mario Cariati.
Mario Cariati joined the host of Breakfast Television, Roger Peterson, to give drivers some tips if they are ever involved in a collision!
Here are some tips:
If it's safe to do so, move your vehicle out of the way – You may feel it's important to maintain the vehicle in the same exact location where the accident occurred, but if your disabled vehicle is in the midst of traffic, this can be a danger to you and other drivers.
Collect information – Take note of the make, model and license plate of all other vehicles involved.
Document the accident – Whether it's calling the police or taking photos of the scene, always make sure that you have the most accurate information about the incident.
At Cariati Law, we deeply care about your safety.
If you or a loved one is seriously injured in any type of motor vehicle accident, call Cariati Law at 905-629-8040 for help. When you call, you will speak with an experienced Toronto Car Accident lawyer absolutely FREE. We will investigate your accident, handle all of the paperwork, manage your entire claim so you can focus on your recovery.
At Cariati Law, our top car accident lawyers will investigate every detail of your accident for free. All cases are handled on a contingency fee basis, which means you pay us nothing up front. In fact, we only get paid after you do, and if there is no recovery, there is no lawyer's fee.
Cariati Law – Passion Behind Every Case