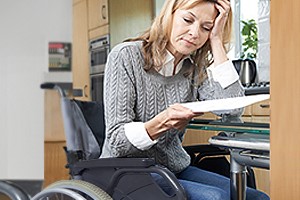 On average, 1 out of every 3 Canadians will be disabled for at least 90 days before they reach age 65. It may not be pleasant to consider, but a sudden accident or serious health condition can impact anyone. When an injury or illness keeps you out of work for an extended period of time, Long Term Disability Insurance benefits can help you support you and your family while you recover.
There are many different types of Disability Insurance coverage that can help you receive the income you need if you can't work. Whether you are enrolled in a Long Term Disability Insurance Group Plan by your employer, or you purchase an Individual Plan, Long Term Disability Insurance benefits can help you pay your bills following a serious accident or illness.
Unfortunately, many employees that are suffering from a serious medical condition have their Long Term Disability Insurance claims denied by the insurance company. If this has happened to you or a loved one, it is important to contact an experienced Long Term Disability Insurance Claims lawyer for help.
At Cariati Law, our Disability Insurance Claim lawyers will advocate for your rights and help secure the insurance benefits you deserve.
Insurance companies could try to deny your Long Term Disability Insurance claim for a number of reasons:
They may try to claim that you have a pre-existing medical condition that was not covered under the terms of your policy.
They may claim that you failed to provide the proper medical evidence to prove you are disabled.
If there is an error in your documentation or if it was not submitted to the insurance company in a timely fashion, it could also result in your claim being denied.
If your Disability Insurance Claim is denied for these, or any other reason, you have the right to appeal the insurance company's decision. If you or a loved one have been denied the Disability Insurance Benefits you deserve, call Cariati Law right away at 905-629-8040.
When you hire the experienced Toronto, Mississauga and Hamilton, Ontario Disability Insurance Claims lawyers at Cariati Law, our legal team will investigate every detail of your situation and help you receive the Long Term Disability insurance benefits you deserve.
Time may be limited to file your claim, so call Cariati Law right away. At Cariati Law, you will never pay a lawyer's fee up front. We take all cases on a contingency-fee basis, which means we don't get paid until we secure the insurance benefits you deserve.
Cariati Law – Passion Behind Every Case