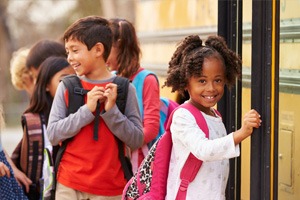 The start of a new school year is rapidly approaching and we are all preparing, getting backpacks and school supplies ready. Parents, teacher's faculty and students throughout Canada begin to prepare for a new school year.
An important thing to remember as you prepare your children for their first day of school is that safety guidelines should be discussed. Whether your kids ride the bus, carpool, walk with friends or ride a bike, there are important safety tips to keep in mind.
Driving In a School Zone
In school zones always remember to slow down, look out for school zone signals and always obey the speed limits.
Never text while driving, pass other vehicles or change lanes in a school zone.
Always be sure to stop for school buses and watch for children near schools, bus stops, and sidewalks, in the parking lot and around the streets.
When Riding Your Bike To School
When riding your bike make sure to check with your school to make sure your child is allowed to bike.
Make sure your child is properly dressed and always wears a helmet.
Remember to follow the rules of the road and try to stay on the right-hand side.
For Walkers
If you walk to school give yourself extra time to arrive on time.
Use the same route daily and never wander after school always go straight home.
Try to walk with a group of students and make sure to always stay on the sidewalks.
Make sure to only cross streets at designated locations.
Never talk to strangers. A stranger is someone that you do not know.
If You Ride The Bus
If you are riding the bus make sure to arrive at the designated bus stop early.
Never play in the street or wander away from the stop.
Do not shout or distract the bus driver, always stay seated and keep your head and arms inside the vehicle at all times.
Never walk behind or in front of a bus.
At Cariati Law, we want to wish every student the best of luck during the upcoming school year. Our lawyers and staff would also like to remind everyone to stay safe and be responsible when walking, biking or driving to school.
At Cariati Law, we are committed to protecting the rights of Ontario pedestrians injured through no fault of their own. If you or a loved one was injured in an accident caused by someone else's negligence, call Cariati Law today at 905-629-8040.
Our experienced Ontario Pedestrian Accident Lawyers will speak with you for FREE, investigate every detail of your accident, and fight to get you the maximum compensation for your injuries.
When you trust Cariati Law to handle your case, you will never pay a lawyer's fee up front, and you owe us nothing unless we recover for you. At Cariati Law, we don't get paid until you do.
Cariati Law – Passion Behind Every Case