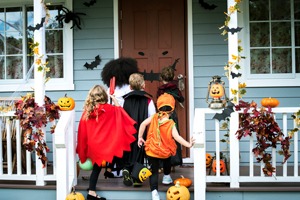 Decorations are one of the most exciting parts of Halloween. Yards are transformed into haunted houses, spooky graveyards, or other eerie venues. But between the strobe lights, lawn decorations, and artificial fog, they can also be a hazard to the little trick-or-treaters.
When anyone invites another person to their home, they owe them a "duty of care." This is no different on Halloween. Their duty of care is to ensure the safety of their property. When someone is injured on another's property due to a breach of this duty, the property owner can face liability for damages.
What is Premises Liability Law?
Premises liability law is a subset of personal injury law, and states that the person or entity that is responsible for injuries that another person incurs on their premises is also responsible for the damages. Not only do homeowners owe a "duty of care," but so too do business owners and rental property owners.
Safe Decorating for Halloween
In order to prevent any injuries on your property this Halloween, here are some safety tips for decorating:
Be sure that the walkway is clear of decorations, cords, etc. and well lit
Block off unsafe areas and place any necessary warning signs
Be sure that dry ice or fog machines are not pointed towards people
Use battery-powered candles for jack-o-lanterns
Always keep dogs inside since they may be afraid
We Can Help
If you were injured in an accident that wasn't your fault, call Cariati Law today at 905-629-8040 for a free consultation about your case.
When you call, you will speak with an experienced Toronto and Mississauga, Ontario Car Accident and Pedestrian Injury lawyer absolutely FREE. Our experienced legal team will investigate the details of your case and fight hard to ensure you receive the justice you deserve.
When you trust Cariati Law to handle your serious injury case, you will never pay any fees up front, and you owe us nothing unless we recover for you. At Cariati Law we don't get paid until you do.
Cariati Law – Passion Behind Every Case