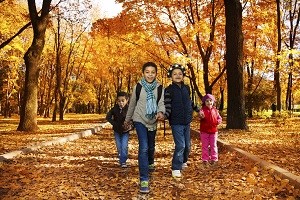 Autumn is one of everyone's favorite seasons to spend time outdoors with family and friends. Trick or Treating, jumping in leaf piles and playing pick-up football or hockey are all great activities that get kids and parents active and enjoying the crisp fall air. However, all of these activities require keeping an eye on your children's safety, and more than ever that means making sure Toronto's neighborhoods are safe from reckless drivers.
According to the national safety organization Parachute Canada, children aged 10 to 14 years old face the highest risk of being injured or killed in pedestrian accidents in Canada. The organization also estimates that every year, an average of 30 pedestrians under 14 years old are killed and another 2,412 are injured. These statistics are further amplified in major cities like Toronto by Trick-or-Treating activities on Halloween and the start of icy road conditions in November.
There are many reasons that pedestrian safety is especially crucial in Toronto at this time of year, so here are some helpful tips you can use this year to make this autumn fun, memorable and safe for the whole family.
Start a Traffic Calming Campaign
Traffic Calming has become a widely adopted practice in many Canadian municipalities, especially in the last 10-15 years. Transport Canada defines a traffic calming campaign as "the combination of mainly physical measures that reduce the negative effects of motor vehicle use, alter driver behavior and improve conditions for non-motorized street users."
Learn more about traffic calming by clicking here.
Sometimes all it takes to slow motorists in your neighborhood is a friendly reminder. Contact your local Toronto police department or township offices and let them know you're interested in launching a Traffic Calming campaign. You'd be surprised what a group of organized tax payers can accomplish when they work together, and by asking your local government agencies you should be able to secure the proper signage to keep motorists obeying the speed limit.
Form a Walking School Bus
As the weather begins the shift from fall to winter, late autumn is the last chance for children to walk to school and enjoy the fresh air and mild temperatures. Walking to school is also a great way for kids to get some exercise, socialize with their friends and learn their way around their neighborhood, but parents are often hesitant to allow their kids to walk on their own. A "Walking School Bus" is a great way for parents to work together to ensure that kids can walk together under the proper supervision and arrive to school safely.
The Walking School Bus takes kids and parents along a pre-planned path to school and is a great way to use the strength of the Toronto community to your and your child's advantage. Walking School Busses can either follow the same route every day and pick up new members along the way, or begin at a central meet-up spot and continue on from there.
Learn more about forming your own walking school bus by clicking here.
If you or a loved one has suffered a pedestrian injury due to a negligent motorist, improperly maintained roadways or icy sidewalks, call Cariati Law Personal Injury lawyers so that we can represent you in your time of need. We'll answer all of your questions and never charge anything up front. We only get paid, when you do.
If we take your case, we will investigate your situation at no cost to you. We will investigate what happened, and if someone was at fault, we will take the necessary measures to seek compensation for you and your family
Call Cariati Law, Toronto personal injury lawyers for a FREE, no obligation, and confidential consultation at 905-629-8040.
Cariati Law, Toronto Injury & Disability lawyers announce our No Fee Promise- meaning you owe us nothing unless we win your case. When injured, make one call to Cariati Law.
Cariati Law, passion behind every case.