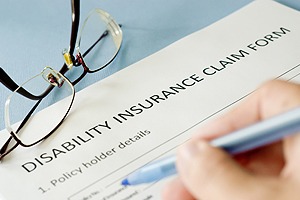 Millions of Canadians are faced with a serious injury, medical diagnosis or disability that can make it difficult, or even impossible, to perform their normal daily work functions. Being out of work due to an injury or disability, and dealing with mounting medical bills and lost income can quickly become stressful and overwhelming.
When an injury or disability interferes with your ability to perform the essential duties of your job, or causes you to miss a lot of time from work, you may be eligible to receive Long Term Disability Insurance benefits.
In order to receive the Long Term Disability Insurance benefits you deserve, there is an application process you must go though. Unfortunately, many injured workers have their LTD claims initially denied, but following the steps below can help give you a better chance of receiving the benefits you deserve:
File your Claim Quickly: If you suffer from an injury or illness, time is of the essence. Filing your claim as soon as possible helps ensure that you meet all deadlines required by your insurance policy.
Keep Detailed Records: Stay organized and keep all forms, records of doctor visits, documentation, and everything else related to your disability case, in the same folder for easy access. It is essential to be able to provide correct and accurate documentation during the LTD application process.
Work Closely With your Doctor: The more medical evidence you can gather that proves your disability, the greater your chance of having your disability claim approved. Medical records provided by your doctor or healthcare provider, including X-Rays, MRIs, and CT-scans, can go a long way to help support your claim.
Contact the Experienced Ontario Disability Lawyers at Cariati Law: It is important for injured or sick workers to contact an experienced Long Term Disability Insurance lawyer early during your application process. An experienced Long Term Disability Insurance Lawyer will make sure you are presenting your case the right way from the start, and give you a much better opportunity to secure the benefits you deserve.
If you have Long Term Disability Insurance, and are having difficulty securing your benefits, call Cariati Law for help. An experienced Ontario Disability lawyer will speak with you for free about your situation and fight to get you the Long Term Disability Insurance benefits that you deserve.
Call Cariati Law at 905-629-8040 if you need help securing your Long Term Disability Insurance Benefits. When you work with our law firm, you will never have to pay a fee up front. We only get paid, after you get paid.
Cariati Law – Passion Behind Every Case