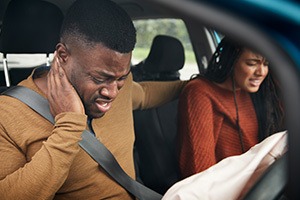 So, you're a passenger in a car accident. Now what? If you've never been in a car accident before, you may not know what to do next. If you've been injured as a passenger, you have as much right to recover compensation for medical bills, lost earnings, and other accident-related expenses. Being in a car accident as a passenger is a stressful situation, but the issue of what to do after an accident is key to ensuring that your rights are protected and that you'll be fully compensated for your injuries and damages.
Passenger Rights Following a Motor Vehicle Accident
In car accident cases, passengers that are injured have rights and may claim compensation. Whether the driver of the car you were a passenger in caused the accident, or if another driver hit the vehicle you were in, the accident was not your fault. Passengers that are injured in car accidents are almost always covered by insurance and you may file claims against the insurance companies for each of the involved vehicles responsible for the collision. The right to claim against all involved cars is especially important when your injuries are severe.
8 Steps to Take After You're A Passenger In A Car Accident
One in three Canadians will be involved in a car accident at some point in their life. In a high stress situation like this, we often freeze up – not knowing what to do next. If you were a passenger involved in a car accident, follow the steps below:
Remain Calm. This may seem obvious, but it's worth mentioning. Take a couple of deep breaths and collect yourself before starting the next steps.
Remain the Scene Of The Accident. This may also seem obvious, but if you don't stay at the accident scene you may be subject to fines or criminal prosecution.
Check Injuries of All Involved Parties. Begin by checking yourself. Are you in pain? Can you move? Ask the others in your car the same questions. Once you have confirmed the other driver and passenger(s) are okay, move on to the next steps.
Move the Vehicle. ONLY if it is safe, move the car to the shoulder or out of traffic. Don't get out of your car in active lanes of traffic, if the car cannot be driven put on your hazard signals while you wait for the police to arrive.
Call 911 Immediately If… someone is injured in the accident, damage to the vehicles exceeds $2000 between both cars, or you believe any drivers have committed a criminal offense. If none of the above applies, call the closest police station for instructions on how to report the accident. Some stations will dispatch officers, others may advise you to go to a Collision Reporting Centre.
Document the Accident. Gather as much information about the conditions of the accident as possible like the weather, road conditions along with time and location of the accident. The quicker you do this, the more likely you are to remember important details. Your information may help your broker or insurance company, and (if necessary) the police, to understand the circumstances around the car crash.
Exchange Information with The Other Parties. Before you leave the accident scene, exchange information with the other driver and parties involved. Information you need to obtain includes driver's license numbers, names and contact information of all parties involved, insurance policy information and policy numbers and license plate numbers.
Report the Accident To Your Insurance Company. Your broker or agent will take down any information about the accident you have and will begin to process your insurance claim.
Do I File a Claim as a Passenger When a Relative or Friend is at Fault for the Accident?
Although it can be an uncomfortable situation when the driver responsible for the accident happens to be a relative or friend, but keep in mind that it is not a claim against that driver's assets. Many victims are reluctant to make a claim if their spouse, family member, or friend was the driver believed to be at fault. Such reluctance is misplaced, because in just about every case, their insurance company ends up paying the settlement claim or entire judgement without any deductible or payments due from the relative or friend.
A Personal Injury Lawyer Can Help You Receive Full Compensation
As a passenger, your injuries result from no fault of your own. If you have been injured as a passenger in a car accident, trust the experienced personal injury lawyers at Cariati Law to work hard for you and to make sure that your rights are fully protected. We'll hold the responsible parties liable for your injuries and take your case to court if necessary.
At Cariati Law, we put passion behind every case. We'll help you. Call today to schedule a free, no-obligation consultation with one of our car accident lawyers. 905-629-8040.