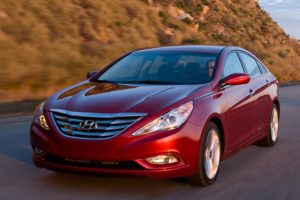 On August 12th Transport Canada announced that Hyundai has issued a recall of selected Azera and Sonata models.
On certain model-year vehicles, road salt can corrode the rear crossmember assembly, which may ultimately lead to separation of the control arm at the mounting point. This can allow the wheel to rotate off of its axis, potentially resulting in a severe loss of vehicle control and subsequent crash, causing property damage, severe injury, and even death.
If you own one of the affected Hyundai models you are urged to immediately contact your local dealer who will make repairs for free.
Check out Health Canada's recall advisory to get the full details and model numbers affected.
The experienced lawyers at Cariati Law are here to help. If you or a loved one have been injured in any type of accident or as the result of a defective product, call Cariati Law for a free, no obligation, confidential consultation at 289 807 5165. There is never a fee for ours services unless we win for you. Our lawyers are committed to protecting your rights. When injured, make one call to Cariati Law.
Cariati Law, Passion Behind Every Case.