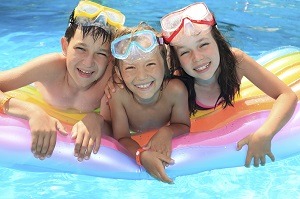 Millions of people every year enjoy warm weather by swimming in backyard pools, public swimming pools and relaxing in hot tubs. Tragically though, over 200 young children drown in backyard swimming pools each year. There are some important ways in which pool owners can increase pool safety at their homes.
1. Secure your pool with appropriate barriers. Completely surround your pool with a 4-feet high fence or barrier with a self-closing, self-latching gate.
2. Place a safety cover on the pool or hot tub when not in use and remove any ladders or steps used for access.
3. Consider installing a pool alarm that goes off if anyone enters the pool.
4. Keep children supervised at all times and especially stay in arm's reach of all young kids.
5. Designate a responsible person to watch the water when people are in the pool and never allow anyone to swim alone.
6. Have young or inexperienced swimmers wear an approved life jacket.
7. Ensure everyone in the home knows how to swim well by enrolling him or her in age-appropriate water orientation and learn-to-swim courses.
8. Keep your pool or hot tub water clean and clear. Maintain proper chemical levels, circulation and filtration. Regularly test and adjust the chemical levels to minimize the risk of earaches, rashes or more serious diseases.
9. Establish and enforce rules and safe behaviors, such as "no diving," "stay away from drain covers," "swim with a buddy" and "walk please."
10. Make sure everyone in the home knows how to respond to aquatic emergencies by having appropriate safety equipment and taking water safety, first aid and CPR courses.
Education and preparedness will help tremendously to keep your family, friends and loved ones safe. Accidents do happen, but if you take the time to address these simple guidelines, this could minimize
If you or a family member is ever injured in any type of accident or incident that was not your fault, call Cariati Law for help. You can speak with an experienced lawyer for free and we will let you know if you have a case. We are here to protect and defend you and your family against the harmful actions of others.
Call Cariati Law, Toronto personal injury law firm at 1-888-629-8040 for a free confidential consultation.