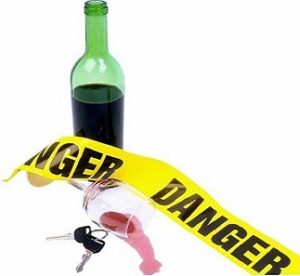 If people would only first think of their personal safety and the safety of others before getting behind the wheel, drunk driving accidents would no longer continue to harm thousands of Canadians every year. Unfortunately across Canada drunk driving statistics continue to climb: according to Mothers Against Drunk Driving (MADD) Canada, inebriated drivers account for an estimated 42% of all traffic deaths.
There is never a good excuse to drive while drunk, but as we all know we cannot control the actions of others. Although you will never be able to completely remove the risk caused by drunk drivers entirely, there are several easy steps you can take to minimize your risk of becoming yet another statistic.
 Watch for Erratic driving Behavior
Always stay on the alert for drunk drivers, and make sure you are prepared to take defensive driving action if needed. There are several warning signs that will help indicate if a driver is under the influence. Watch out for erratic driving: If you see a vehicle speeding up or slowing down without reason, or veering back and forth into different lanes, take immediate action to distance yourself from the other car. Sometimes these erratic driving signs will be more subtle, so remaining alert and watchful is key.
If you must distance yourself from a potentially drunk driver, do so as safely as possible. If the erratic driver is in front of you, try to slow down and stay behind the vehicle. Pull over as soon as you safely can and dial 911 to report the situation. Reporting a potential drunk driver can possibly save many lives down the road. Try to give the dispatcher the license plate number, make of the vehicle and location if possible.
Try to Avoid late Night and Early Morning Driving
Always avoid driving late at night whenever possible. The majority of drunk driving related accidents and deaths occur at night. Most of these accidents occur very late at night or in the early morning hours.
Most taverns close around 2 am. If you must drive around this time, be even more careful and vigilant than usual. Look for erratic driving indications. Stay mindful of your surroundings while on the road to ensure your own safety during the late night hours as well as in the early morning. If another vehicle's driving looks questionable, don't immediately dismiss it. Always maintain safe distance from those you believe may be intoxicated.
If you can't avoid driving late at night or in the early morning hours, always try to avoid driving on the roadways specifically between 2am-3am.  If you are at a bar (being responsible) always leave well-before closing. This is when the highest percentage of drunk drivers will be on the road.
Be Extra Careful during Holidays
Holidays typically bring out a higher number of drunk drivers. New Year's Eve is notorious for its record numbers of inebriated drivers. Any time people have an excuse to get together and have a good time drunk driving seems to increase. If you are driving during a holiday, always remain extra vigilant for intoxicated drivers. Remain alert and take defensive driving action when needed.
If you follow these steps of distancing yourself from potential drunk drivers, avoiding driving late at night when possible, and always remaining vigilant on the roadways, you will help reduce your risk of being injured by a drunk driver.
If You have Been Injured
The experienced lawyers at Cariati Law are here to help. If you or a loved one has been injured in a car crash or any type of accident call Cariati Law for a free, no obligation, confidential consultation at 289 807 5165. There is never a fee for ours services unless we win for you. Our lawyers are committed to protecting your rights. When injured, make one call to Cariati Law.
Cariati Law, Passion Behind Every Case.