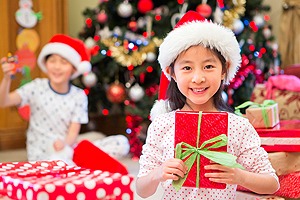 With parents rushing to find the perfect toys for their children, it can be hard to prioritize what to look for in a child's toy. Often, parents are looking for the best deals, the toy their child will enjoy, or the most popular toy of the season. Although these factors are helpful in selecting a toy, it is important to look at the safety of each toy as well.
Every year, thousands of children are rushed to hospital emergency rooms for toy-related injuries. These hospital trips can be easily avoided by really investigating the true safety when purchasing toys.
With December being the height of toy shopping season, we want to help parents choose the safest and smartest toy for their child. Below are guidelines to keep in mind when selecting toys this holiday season, according to Parachute:
Age. Keep an eye out for the recommended age on toys. If a package does not list a recommended age, take the time to thoroughly inspect the package, toy instructions and any safety warnings to see if this toy is suitable for your child.
Choking Hazards. Toys have an age recommendation for a reason. Items for older children contain small pieces that pose a choking threat to small children. Keep your child's age, size and capabilities in mind when purchasing toys.
Read Warning Labels & Take Them Seriously. Before purchasing any toy, take time to learn about the product. Read the labels, warnings, safety messages and assembly directions that come with the toy so you are well-versed with the purpose and outcome of the product.
Check The Toy Regularly. After you have purchased the toy and your child has started to play with it, check the condition of the toy on regularly. Check to see if the toy has become dangerous in any way- whether it be loose parts, broken pieces, or sharp edges have become exposed.
Watch Out For "Shooting" toys. Although many kids and teens love shooting toys, whether bow & arrow type toys, sling shots, or shooting balls out of a gun, these toys tend to cause serious injury, including severe eye injury and facial injuries. So please beware of all shooting toys.
Next time you go shopping for a toy, don't think about what toy your child will like most, but what toy will be most safe and suitable for them. In the grand scheme of things, it is our children's safety and wellbeing that matters most.
To view a list of the "10 Most Dangerous Toys Of 2016", click here.
At Cariati Law, we deeply care about the safety and wellbeing of all children. Please be mindful when selecting gifts for your children this holiday season and keep an eye out for toys that may pose a threat to your child's safety.
Cariati Law – Passion Behind Every Case