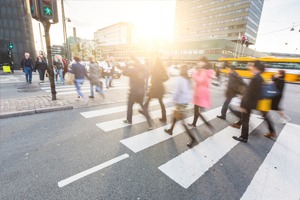 Pedestrian safety is at the forefront these days in and around Toronto. There are many pedestrian safety programs in place right now, in an effort to help educate pedestrians, and drivers on pedestrian safety. Remember that all pedestrians have the right of way, so please drive responsibly, and with patience when you see a pedestrian walking or crossing a street or in a parking lot.
A recent accident involving two pedestrians along one of the busiest streets in downtown Toronto reminds us how important pedestrian safety is to all of us. A vehicle collided with two pedestrians in the early morning hours. One pedestrian lost their life; the second was taken to the hospital in serious condition. The intersection was closed off briefly and the investigation is still ongoing.
To read the full article click here.
Toronto has some of the deadliest roads throughout Canada with 52% of all fatalities involving pedestrians. This is a major problem that continues to increase, so we all need to be more aware, and drive much more carefully near pedestrians.
At Cariati Law we care about the safety of all pedestrians, cyclists and motorists who share our roads on a daily basis. We want to make sure everyone arrives to his or her destination safely. Below are some a few basic safety tips for pedestrians:
When crossing the street make sure to use the crosswalk when available
Don't jaywalk
Always look for traffic signals and check twice before crossing the street
Always stand back from the roadway when waiting to cross
Put away mobile devices and electronic devices when crossing the street or crosswalk.
Look up, not down when crossing, don't trust that other vehicles will see you
Be especially careful when a curved street is near you when walking, cars can come up quickly and not see you
When crossing at a traffic light, cross only when the signal says go
Make sure you are visible to motorists
Pay attention to vehicle's that are turning onto the crosswalk while making sure to make eye contact with drivers so they know you are planning on crossing.
At Cariati Law, we are committed to protecting the rights of injured pedestrians. If you or a loved one was injured in a pedestrian accident, call Cariati Law today at 289-807-5165.
Our experienced Toronto Pedestrian Accident Lawyers will speak with you for FREE, investigate every detail of your accident, and fight to get you the maximum compensation.
When you trust Cariati Law to handle your Mississauga accident claim, you will never pay a lawyer's fee up front, and you owe us nothing until we recover for you. At Cariati Law, we don't get paid until you do. Let us help you through your difficult time, and guide you in the right direction.
Cariati Law – Passion Behind Every Case