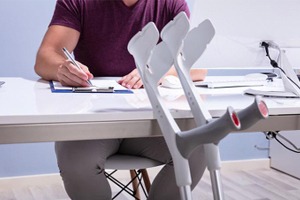 An individual is considered disabled if he or she cannot perform the essential duties of his or her job. Long-Term Disability (LTD) benefits are intended to provide coverage for individuals whose disability prevents them from working for an extended time – typically six months or longer.
Every LTD policy is different, and your insurer will closely examine your medical diagnosis to see if you meet the requirements set out in your policy to receive LTD benefits.
You Have Long-term Disability Insurance
Long term disability insurance is purchased privately by individuals through an insurance broker or directly through an insurance company. Long term disability insurance can also be made available for purchase through your employer through a group disability insurance policy. Through your employer's group insurance cases, the premiums could be paid by the employer, the employee, or shared between both the employer and the employee. Depending on what applies to you, there are different implications for tax purposes. Long-term disability insurance benefits generally begin when the following benefits end:
short-term disability insurance
sick leave benefits from your employer
EI benefits
2. You Have One of These Conditions That Qualify for LTD
Most medical conditions can qualify for long-term disability. Insurance companies review the seriousness of your disability. Namely, how badly the symptoms interfere with work. Common medical conditions that are eligible for long-term disability benefits are:
· Arthritis
· Heart Disease
· Back/Spinal Problems
· Irritable Bowel Syndrome
· Bipolar Mood Disorder
· Knee Disorders
· Cancer
· Lupus
· Carpel Tunnel Syndrome
· Lyme Disease
· Chronic Fatigue Syndrome
· Multiple Sclerosis
· Chronic Pain
· Neck/Cervical Disorders
· Complex Regional Pain Syndrome
· Neurological Disorders
· Crohn's Disease
· Sleep Disorders
· Depression
· Vestibular Disorders
· Fibromyalgia
· Visual Disorders
· Headaches and Migraines

FAQ: How Do You Apply for Long Term Disability Benefits?
Long term disability payments are not automatic, and applying for long term disability financial assistance can be a lengthy and complicated process. The application and verification process can be stressful and require attention to specific details, precise record-keeping, and constant monitoring. It can be beneficial to consult with a lawyer specializing in long-term disability cases, claim filings, and adjustments.
What Does Long Term Disability Cover?
Most long-term disability insurance plans will replace 60% to 70% of your regular income. Private disability insurance coverage is designed to help manage your bills and sustain your lifestyle should you become disabled. There are genuinely no universal rules governing long term disability benefits. In Canada, statutory definitions of disability can vary from one jurisdiction to another.
Cariati Law Can Help
If your Long Term Disability Claim has been denied, cut off, or is being investigated by the insurance company, don't waste another second feeling frustrated and hopeless. Our disability lawyers put their knowledge of the law and years of experience to work helping you obtain the compensation you deserve.
Find out what Cariati Law can do for you, contact one of our experienced Ontario disability lawyers at 905-629-8040 today. Our top disability lawyers will review your case and provide an initial consultation FREE of charge.