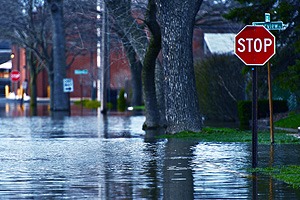 Floods are the most common and costly disasters in Canada – occurring as heavy or steady rain falls for several days or hours. This past week we saw just how devastating and fast a flood can occur.
As you look outside your window you may spot thousands of large orange sand bags lining the Toronto islands, homes completely destroyed, and front lawns resembling small lakes.
Toronto received more than 51 millimeters of steady rain throughout the area, causing the lakes to overflow and flood into the surrounding roads and homes. A state of emergency was issued for the region as well as throughout Canada. As hundreds of homes were potentially damaged during the floods, families are just now able to return to their homes.
The Canadian Read Cross has provided a Plan for Floods, including what to do after. After a flood you should:
Continue to take proper precautions and listen to/follow directions from local authorities.
Only return home when officials have declared it is safe.
Before entering your home, look outside for any damage – loose power lines, structural damage, damaged gas lines, foundation cracks.
Parts of your home may be damaged – approach all entrances with caution.
Stay away from fallen power lines.
Do not use water that may be contaminated for washing, cleaning, drinking or food preservation.
Wear protective clothing – rubber boots and gloves, face mask, long sleeves.
To view the full list click here.
As you return home to assess the damages done there are multiple things to remember in order to properly file an insurance claim.
Take Pictures – before you remove any water or make any repairs be sure to fully document the damage done. This will be critical when you file your claim.
Call Your Insurance Company – Make sure to notify your insurer as soon as possible after the flood.
Document Everything!
If your insurance company is giving you a hard time, call Cariati Law for help with your disaster claim.
Having difficulty getting your homeowners insurance policy to pay up? Call Cariati Law today at 905-629-8040 for a FREE, confidential consultation. When you call, you will speak with an experienced Toronto  lawyer for free. We will investigate every detail of your accident and fight hard to protect your rights.
At Cariati Law, you will never pay a lawyer's fee up front and you owe us nothing until we recover for you. That is the Cariati Law No Fee Promise.
Cariati Law – Passion Behind Every Case