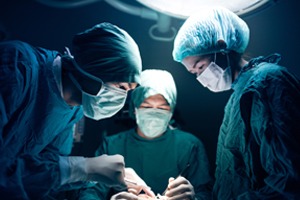 Hernia surgery is extremely common throughout Canada – each year thousands of procedures are performed. Most surgeons use a surgical mesh product in these surgeries to strengthen the hernia repair and reduce the rate of recurrence.
Numerous synthetic mesh products used to repair hernias has caused thousands of patients too suffer from serious medical complications following their Hernia surgery. A majority of hernias are caused by a combination of pressure and an opening or weakness of muscle or connective tissue.
Multiple companies manufactured synthetic hernia mesh products that contained a type of plastic known as polypropylene causing the product to become defective and harm patients. Polypropylene should not be used in permanent medical implants such as hernia mesh. When mesh fibers break down and spread throughout the body, they can cause serious and even permanent injuries.
The most common adverse reactions from the defective hernia mesh products include:
Pain – usually around the hernia site
Infection
Hernia Recurrence – requiring a second surgery
Adhesion – build-up of scar tissue
Bowel Obstruction – caused by blockage of the bowel or intestine
Perforation of organs
Urinary problems
For years the FDA issued multiple warnings of these products due to thousands of adverse reaction reports. All of the products are now off the market but men and women who have been seriously injured by surgical mesh complications may have the right to seek compensation for their losses and suffering.
To read the full FDA article click here.
If you or a loved one has suffered injury after a hernia surgery, defective mesh could be involved. Call the experienced Toronto, Mississauga and Hamilton, Ontario Product Liability lawyers of Cariati Law right away at 905-629-8040 or fill out a free consultation form online.
At Cariati Law, we will speak with you for free and review every detail of your situation. You will never pay a lawyer's fee up front, and you owe us nothing unless we win your case.
Our experienced Ontario lawyers promise to handle your case with dedication and compassion, and fight hard to secure the maximum recovery for your injuries.
Cariati Law – Passion Behind Every Case