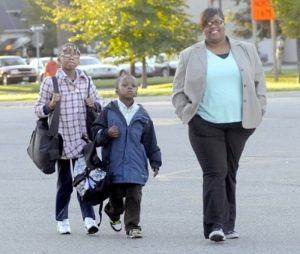 October is National Walk to School Month which is part of a national movement dedicated to children's mobility, health and happiness in Canada. Walking to school is a great way to get much needed exercise and make friends, but can also be dangerous in certain situations.
In the fall season many motorists may not account for the increasing darkness during their daily commutes. Children on their way to and from school may be at a greater risk being hit by a vehicle during this time.
There are several steps parents can take to help make sure their children are as safe as possible on their walk to school.
Children should always be taught correct road crossing procedure. They should know they must always look both ways before crossing the street, even in a residential setting. They should never wear headphones to listen to music while walking to school, as they will be less able to react to road hazards such as a car approaching. A knowledge of all cross-walks and street signs along their route is also critical. Kids are never too young to learn the rules of the road.
To help increase visibility, kids should wear brightly colored outerwear while walking to school and all after school activities. Bright colors clothes can help drivers spot children walking to school.  Children should also wear reflectors on their backpacks, bicycles, and scooters. This also will help to increase their visibility, especially when there is less daylight.
Children, especially those under 10, should always be accompanied by an adult as they walk to school. Kids walking to school should always use the buddy system and walk on the sidewalk, never in the street. Crosswalks should always be used properly whenever possible.
Children should be taught to walk at a normal pace, never run. This gives motorists more time to notice them and adjust their driving. Running also increases the chance a child will fall into the street, where he or she may not be seen by a passing driver.
If your child follows these simple rules, they will be well on their way to enjoying their school day while reducing their risk of being in an accident.
For more information and recommendations about student safety and safe school routes, please check out  saferoutetoschool.ca
The experienced lawyers at Cariati Law are here to help. If you or a loved one have been injured in any type of accident, call Cariati Law with offices in Toronto and Mississauga for a free, no obligation, confidential consultation at 289 807 5165. There is never a fee for ours services unless we win for you. Our lawyers are committed to protecting your rights. When injured, make one call to Cariati Law.
Cariati Law, Passion Behind Every Case.