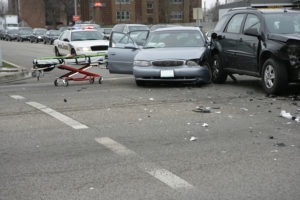 An Ontario police officer took to Twitter Thursday, February 8, to share the "heartbreaking aftermath" of a fatal car accident caused by aggressive driving.
Nicole Turcotte, 22, died after a driver switched lanes then suddenly slowed down. This incident caused a five-vehicle pileup on the Queen Elizabeth Way in Mississauga, Ontario on Jan. 27.
"We spoke to the family and obviously they're completely devastated by the outcome of what's happened here," Sgt. Kerry Schmidt told HuffPost Canada. "Realizing how preventable this is, they really want everyone to know what Nicole meant to them. It's just such a heartbreaking story."
Schmidt shared a voicemail left by Turcotte's mother, Heather, the night of the crash.
To read the full story, click here.
In a 2016 Canadian Automobile Association (CAA) poll, nearly nine out of 10 drivers say aggressive driving is a threat to their personal safety.
The driver who allegedly caused the crash initially fled the scene, then turned himself on February 7. Police charged Yasir Baig, 32, with four criminal counts, including dangerous driving, causing death and failing to remain at the scene of a collision.
Police said it was a case of road rage.
"People need to keep their emotions under control on the highway," Schmidt said. "We can get so riled up and explosive so quickly, from tailgating and weaving through traffic, honking horns, giving inappropriate gestures or all of a sudden cutting them off, or slamming on the brakes. It's completely negligent."
It is important that we make our Ontario roads as safe as we can.
If you see someone driving erratically on our Ontario roads, please call OPP and report it immediately.
And, if another driver becomes aggressive, don't retaliate and risk getting into a crash.
At Cariati Law, we deeply care about your safety.
If you or a loved one is seriously injured in any type of motor vehicle accident, call Cariati Law at 289-807-5165 for help. When you call, you will speak with an experienced Toronto, Ontario Car Accident lawyer absolutely FREE. We will investigate your accident, handle all of the paperwork, manage your entire claim so you can focus on your recovery.
At Cariati Law, our top car accident lawyers will investigate every detail of your car accident for free. All cases are handled on a contingency fee basis, which means you pay us nothing up front. In fact, we only get paid after you do, and if there is no recovery, there is no lawyers fee.
Cariati Law – Passion Behind Every Case