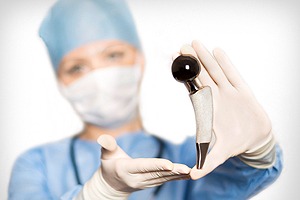 Health Canada has issued a recall of components used in total hip replacement surgeries. The medical product affected by this recall are Stryker LFit V40 femoral heads manufactured before 2011. The LFit V40 femoral head is a component used in total hip replacement surgeries.
Health Canada has determined that these components are unsafe, sighting "higher than expected complaints of…failure." Patients that have received a total hip replacement surgery could be at risk of serious injuries and medical complications.
Click here to read more about this important recall announcement.
This is the second time that Health Canada has issued a recall notice for LFit V40 metal hip implant components manufactured by Stryker Corporation. In 2015, Health Canada also issued a recall notice for Stryker LFit V40 Vitallium Femoral Heads.
This defective medical component by Stryker Corporation was marketed to doctors, by promising increased durability and improved recovery times, compared to hip implant devices made from other materials. Unfortunately, many metal hip replacement devices are defective, and break down at rates much higher than expected.
Once these defective hip components are implanted in patients, the joint where the metal "head" and "stem" meet can start to corrode. This can release harmful metal particles into the tissue and bloodstream surrounding the surgical site.
Patients that received a defective metal hip implant can experience painful and dangerous symptoms, including:
Osteolysis (bone dissolution)
Synovitis (inflammation of the synovial membrane)
Pseudo-tumors
Fluid in the joint
Tissue and bone necrosis
Metal poisoning in the blood
In many cases, patients who received a defective metal hip implant require painful and expensive revision surgery to replace the defective components. Revision surgeries are dangerous, and can lead to serious medical complications.
If you or a loved one are experiencing any adverse reactions from Hip Replacement Surgery or if you have required painful Revision Hip Surgery, call Cariati Law for help at 905-629-8040.  When you call, you will receive a FREE, confidential consultation with one of experienced Toronto Medical Malpractice lawyers.
Cariati Law has extensive experience standing up to major medical device manufacturers on behalf of our clients. Call us today and we will investigate your situation at no cost to you and fight hard to protect your rights.
At Cariati Law, an award-winning Toronto personal injury law firm, you will never pay a lawyer's fee up front, and you owe us nothing unless we recover for you.
Cariati Law – Passion Behind Every Case