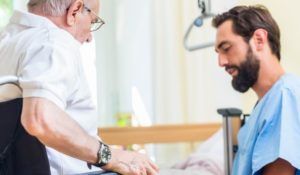 Nursing Home Abuse and Neglect
It is estimated that anywhere from 2% to 10% of Canada's elderly in nursing homes may be subject to abuse at the hands of facility workers, with more reports of abuse surfacing every year. Nursing home abuse can include neglect and physical, sexual, and emotional abuse.  Unfortunately, many of these cases often go unreported.
What is Considered Abuse?
When the staff of a nursing facility fails to care for its residents in a safe and reasonable manner, abuse occurs. Nursing home abuse is a complicated issue, and if you suspect a loved one has been a victim in any way, you should contact a skilled personal injury lawyer who will help you through the process of seeking damages.
Nursing home abuse encompasses many different situations.  Each year approximately 75 percent of nursing home patients suffer a fall and are injured in some way.  This rate is more than double the rate of seniors who fall and do not live in a nursing home facility.
This increase may be due to inattentive staff, slippery floors, and furniture that is not properly suited to the elderly.  Falls are the largest cause of preventable emergency room visits for nursing home residents.
Other common symptoms of abuse include dehydration, malnourishment, sepsis, over-medicating, bed sores, and incorrect medication. Sadly in many nursing home abuse cases, the abuse suffered will ultimately result in the wrongful death of the victim.
Keep Your Loved Ones Safe: Watch for Warning Signs
It is frightening to think that abuse can happen to a family member. However, there are several signs you can look out for to make sure that your loved ones are safe and in good care.
 Possible Signs of Nursing Home Neglect/Abuse
-Bruises and welts
-Burns and abrasions
-Broken bones
-Bad personal hygiene
-Bed sores
-Loss of hair
-Sudden change in weight
-Unexplained or unexpected death
Strange behavior, sudden agitation, and emotional withdrawal can also be signs indicative of abuse.
If you keep your eyes out for these signs and behaviors, you will help reduce the risk of your loved one being hurt by the people and facilities entrusted with their care. If you notice any warning signs, always document the injury right away, make sure medical care is given, and if you believe abuse has occurred, contact a qualified Toronto personal injury lawyer right away.  A personal injury lawyer will be able to advise you on the best course of action, and it is always free for an initial consultation.
The experienced lawyers at Cariati Law are here to help. If you or a loved one have been injured in any type of accident or as the result of a defective product, call Cariati Law for a free, no-obligation, confidential consultation at 905-629-8040. There is never a fee for our services unless we win for you. Our lawyers are committed to protecting your rights. When injured, make one call to Cariati Law.
Cariati Law, Passion Behind Every Case.