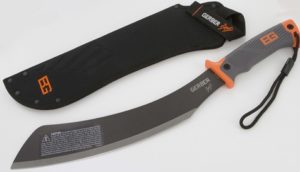 Product:
Gerber® Bear Grylls Parang Machete with stitched sheaths
Units:
11,000 sold in Canada
Sold at:
Sporting goods stores nationwide and online from February 2012 through February 2013 for about $43 for the machete and sheath set, and $349 for the Survival Kit.
Reason for Recall:
The extremely sharp Parang machete can cut through the stitching of the sheaths when the blade is taken from or replaced in the sheath. This poses a laceration hazard to those using the machete.
Consumer Remedy:
Consumers should immediately store the covered Parang machete in a safe area away from children. Contact Gerber Legendary Blades to receive a free replacement fully-riveted sheath.
Contact Gerber Legendary Blades toll-free at (877) 314-9130 from 9 a.m. to 5 p.m. PT Monday through Friday or visit them online at www.gerbergear.com and click on "Product Notifications" at the bottom of the page.
Product Description:
This recall involves stitched sheaths sold with curved blade Parang machetes. The stitched sheath is made of black nylon, with only stitching on the curved side. There are five rivets on the bottom of the sheath and two rivets bordering the strap on top. The machete measures 19.5 inches with a blade length of 13.5 inches. The sheath measures 16 inches long and 3.5 inches wide and has "GERBER" printed in gray and two Bear Grylls logos in orange. The machetes with sheaths were sold as a set or as part of Gerber's "Apocalypse Survival Kit" which includes a Parang machete among other items in a foldable black cloth case with "GERBER" printed on the inside right. The model numbers can be found on the package. Model numbers included: 31-000698, 31-001507 and 31-002289. Model number 30-000601 is on the package for the Apocalypse Survival Kit. The stitched sheath is the only one of three styles of sheaths sold with the Parang machete included in this recall.
Incidents/Injuries:
Gerber has already received eight reports of lacerations to the user's hands or fingers, including three injuries that required stitches.
If you have been Injured:
The experienced lawyers at Cariati Law are here to help. If you or a loved one have been injured as the result of a defective product, or in any type of accident, call Cariati Law for a free, no obligation, confidential consultation at 289 807 5165. There is never a fee for ours services unless we win for you. Our lawyers are committed to protecting your rights. When injured, make one call to Cariati Law.
 Cariati Law, Passion Behind Every Case.