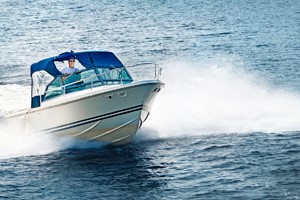 Enjoying Ontario's beautiful lakes and rivers on a boat or personal watercraft is a perfect way to spend a summer day. During the warm weather months there are more boats on the water than at any other time of year. With this increase in water traffic, it is more important than ever to make sure that you and your passengers are taking proper safety precautions when operating a boat.
Please be safe while boating this summer. Stay aware of your surroundings at all times, and never operate a boat if you have consumed any alcohol.
Wear A Life Jacket

There were 20 boating deaths in Ontario in 2014. Of those 20 deaths, 17 people were not wearing life jackets. Wearing a life jacket or personal flotation device at all times is one simple step you can take to make sure you are being safe on the water.
Below are some tips that will help ensure that you and your passengers have a safe, fun time while out on the water:
Check the weather before you head out: If the weather changes and the sky starts to darken, the wind picks up, and the temperature drops, it's a good idea to head back to the dock even if no storms were forecasted.
Make a pre-departure checklist: Be certain that everything on the boat, such as the lights, engine, and safety equipment is working correctly.
Plan and file a sailing itinerary: Tell someone where you plan to go and how long you plan to be out before you start your trip. If something goes wrong, it is easier for help to locate you if they know where to look.
Name an assistant for the day: It is very important that more than one person on the boat knows how to operate it in case of an emergency.
Use common sense: Stay alert, keep a safe distance between other crafts on the water, and stay at a safe operating speed.
Avoid alcohol when operating a boat: Alcohol use is a leading cause of boating accidents.
Be wary of the dangers of cold water. Even in the warmer summer months, hypothermia can set in quickly in Ontario waters. Be prepared and have a plan for the worst-case scenario.
By following these basic precautions and spreading the message about the importance of boating safety in Ontario, we can all do our part to ensure that everyone that heads out on to Ontario's rivers, streams and lakes returns home safely.
Cariati Law – Passion Behind Every Case