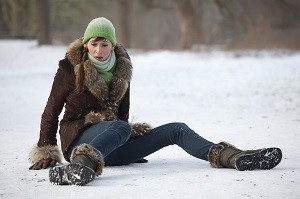 Slip and fall accidents are common. They can happen anytime, anywhere. If you slip and fall on another person's property, the owner of the property may be liable for your injuries. It is the property owner's responsibility to ensure their property is free of hazardous conditions.
Premises liability law applies to all types of property owners, making the person who is in possession of the land or building responsible for certain injuries sustained by another on their property. The premises liability lawyers at Cariati Law are experienced with these types of cases and work hard to get you the maximum compensation you deserve.
Some examples of premises liability incidents include; slip and fall accidents, injuries due to substandard maintenance, conditions that are dangerous because they have gone unrepaired, or injuries resulting from inadequate security of a property.
It is important to determine whether your slip and fall or premises incident occurred on public or private property, as the laws of premise liability as it relates to both types of places may differ.
If you are the victim of a slip and fall accident, or suffered injury or attack at as premises that was unsafe, the experienced premises liability lawyers at Cariati Law, Toronto and Mississagua may be able to help.
The Toronto lawyers at Cariati Law will work to ensure you are compensated for any medical bills, loss of wages or pain and suffering you may experience. After an incident it is helpful to follow these steps:
1) Seek appropriate medical treatment as soon as possible. You should have your injuries attended to and documented by a doctor. The documentation of your injuries will prove necessary when it comes to pursuing a premises liability claim.
2) Contact an experienced premises liability lawyer and they will immediately report your accident to the property's owner, landlord, manager, or person in charge of the facility where you fell. Obtain a copy of any report that may be filled out by the person in charge of the property.
3) Take photos of the exact location where you fell. Make sure to document any conditions or contributing factors to your fall. These include damaged walkways, weather conditions, hazards or obstacles you believe to have played a part in your slip and fall.
4)  Document the names and contact information of any witnesses to your slip and fall.
5)  Contact a lawyer before you talk to the insurance company or sign any papers.
The premise liability lawyers at Cariati Law, Mississauga and Toronto represent seriously injured individuals who are victims of the negligent acts of others.
If you or a loved one has been injured in a slip and fall accident, call Cariati Law Personal Injury lawyers so that we can represent you in your time of need. We'll answer all of your questions and never charge anything up front. We only get paid, when you do.
If we take your case, we will investigate your situation at no cost to you. We will investigate to figure out what happened, and if someone was at fault, we will take the necessary measures to seek compensation for you and your family
Call Cariati Law, Toronto personal injury lawyers for a FREE, no obligation, confidential consultation at 905-629-8040.
Cariati Law, Toronto and Mississauga Injury & Disability lawyers announce our No Fee Promise- meaning you owe us nothing unless we win your case. When injured, make one call to Cariati Law.
Cariati Law, passion behind every case.