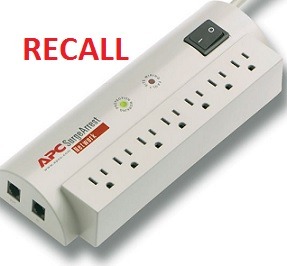 This recall involves APC 7 and 8 series SurgeArrest surge protectors manufactured before 2003.  The model and serial numbers are located on a label on the bottom of the surge protector.
Reason for recall
The surge protectors can overheat, smoke and melt, posing a fire hazard.
Schneider Electric IT Corp. has received a total of 700 reports of the surge protectors overheating and melting and 55 claims of property damage from smoke and fire.  There are 13 reports of injuries, including smoke inhalation and contact burns from touching the overheated surge protectors.
Number of Units Affected
Approximately 860,000 units of the recalled surge protectors were sold in Canada through electrical distributors and IT and office supply stores.
Consumer Remedy
Consumers should stop using the recalled surge protectors immediately, unplug them and contact Schneider Electric  for a free replacement surge protector.
Please click here to view all model numbers affected
The experienced lawyers at Cariati Law are here to help. If you or a loved one have been injured in any type of accident, call Cariati Law with offices in Toronto and Mississauga for a free, no obligation, confidential consultation at 289 807 5165. There is never a fee for ours services unless we win for you. Our lawyers are committed to protecting your rights. When injured, make one call to Cariati Law.
Cariati Law, Passion Behind Every Case.