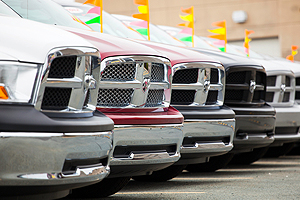 A major car manufacturer announced on Thursday, September 10th that it would be issuing a voluntary recall of hundreds of thousands of vehicles that were sold across Canada between 2012 and 2015. Fiat Chrysler announced this week that serious safety concerns about steering response and airbag deployment might mean that hundreds of thousands of cars across Canada are unsafe to drive.
The manufacturer is urging Canadians that purchased Dodge Ram pickup and Chassis Cab trucks between 2012 and 2015 to take their vehicles in for inspection immediately. The recall began when Chrysler Fiat discovered several potential safety issues with the steering and airbag deployment systems in their vehicles.
In one recall, inspectors found that certain Dodge trucks have a product defect that may cause a harness in the vehicle's steering column to become worn, leading to inadvertent deployment of the driver's side airbags. In affected vehicles, the airbags may deploy without a crash.
This could cause driver distraction and error, and lead to serious and potentially fatal motor vehicle accidents. Two injuries to Canadian motorists have already been linked to this product recall.
250,000 Dodge Ram trucks sold in Canada may be impacted by this airbag malfunction. Models affected by this recall include:
2012-2014 Dodge Ram 1500, 2500 and 3500 pickup trucks
2012-2014 Doge Ram 4,500 and 5,500 Chassis Cabs
An additional 20,000 Chrysler Fiat trucks in Canada are also part of a separate recall related to a potential steering issue. Improperly welded brackets may negatively impact the steering response in these trucks. Models affected by this recall include:
2013 Dodge Ram 3,500 pickup trucks
2014 Dodge Ram 2,500 and 3,500 pickup trucks
2014 Dodge Ram 3,500 Chassis Cabs
If you or a loved one has been injured by an unsafe or defective vehicle or product, you may be entitled to compensation for your pain, suffering, medical bills and lost wages. When vehicle and product manufacturers market and sell unsafe products, they put millions of consumers at risk. Hundreds of thousands of drivers on Canada's roads and highways may now be at risk due to these dangerous product defects.
When injured by a Defective Product, or hurt in any other type of accident that was not your fault, you will need the experienced legal team of Cariati Law by your side. We stand up to major manufacturers on behalf of our clients, and will always fight for your rights.
Call Cariati Law today at 905-629-8040 to receive a FREE, confidential, no-obligation consultation with one of our experienced Toronto, Ontario Product Liability Lawyers. When you call Cariati Law, we will help provide the answers you seek free of charge.
Remember, when you trust us with your serious injury case, you will never pay a lawyer's fee unless we achieve a recovery for you.
Cariati Law – Passion Behind Every Case