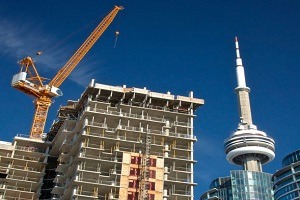 Two Toronto residents suffered serious injuries in separate incidents involving falling debris on Tuesday afternoon. The accidents are reported to have occurred within two hours of each other, and both involved glass windows falling from downtown skyscrapers and striking pedestrians on the sidewalk below.
Police say that the first incident took place at around 12pm on Tuesday the 14th, just in front of 478 King Street West. Toronto Police were dispatched after receiving a call about a falling piece of glass striking a pedestrian in the head. While this type of accident could have resulted in a life-threatening injury, when Police arrived at the scene they reported that the victim was still conscious and breathing.  After examining the victim and witnesses, it was determined that the piece of glass that struck the 29-year-old Toronto man had come loose from a top-floor balcony of a high rise condominium above the scene.
Less than two hours later on that same day, at around 1:45pm in the afternoon, a very similar incident was reported near the intersection of Bay and Dundas Streets. In this case, a 48-year-old woman was walking on the northwest corner of the intersection when she was struck in the arm by a falling pane of glass. Officers found that someone on one of the building's top floors had opened a cracked window, which broke apart and fell to the ground.
Neither victim suffered life-threatening injuries however, these types of accidents are not uncommon for pedestrians living or working in downtown Toronto.
Just last summer, a pane of glass fell more than 50 stories before smashing to the ground on University Avenue in the middle of the morning commute. This accident, which occurred in July of 2014, marked the 3rd time in the previous 10 months where a piece of glass had fallen from a high-rise building and put pedestrians in danger.
The return of spring and warm weather to Ontario inevitably means increased construction activity in and around downtown Toronto. With so many new structures and buildings being constructed or renovated, the risk of Pedestrian Injury from falling glass or debris becomes that much greater.
Building managers and construction companies have a responsibility to conduct regular maintenance of their properties to ensure that these types of incidents do not occur. When building officials fail to protect the public from their unsafe premises, they must be held responsible for their negligent behavior.
At Cariati Law, Toronto, Ontario Personal Injury law firm, our lawyers have experience pursuing landlords, building owners and property management firms that fail to follow the proper safety measures. We hold negligent property owners accountable and will fight to obtain the maximum recovery for your losses.
If you or a loved one has been injured through no fault of your own because of a hazardous or unsafe premises, call Cariati Law today at 905-629-8040. When you call, you will speak with an experienced Premises Liability lawyer for FREE. We will help you understand the details of your case and aggressively advocate for your rights as a victim.
Cariati Law – Passion Behind Every Case