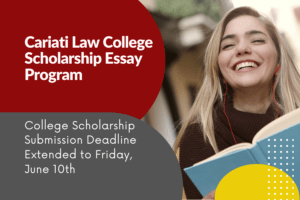 The Cariati Law College Scholarship Essay Program deadline has been extended to Friday, June 10th. If you are a college student or entering an accredited college or university in Ontario, Canada, you can enter to win a $500 scholarship.
The scholarship program is open to prospective and current undergraduate students attending an accredited college or university in Ontario, Canada. One student will be selected from all applicants who submit a 750-word essay on one of the topics below.
Write about your thoughts on any of these issues. Have you experienced any of these issues first-hand? What is your opinion and why?
Texting + Driving
Drinking + Driving
Disability discrimination in the Workplace
Texting + Driving
The Ontario government has introduced new legislation to regulate the use of cell phones and driving. Starting July 1st, 2020, all drivers must follow strict guidelines when using their devices while behind-the-wheel.
Drinking + Driving
The drinking and driving laws in Ontario are strict. The penalties for conviction can include fines, imprisonment (including jail time), loss of license, and other privileges such as being able to own or drive cars legally on the roadways!
Disability Discrimination in the Workplace
Disability discrimination in the Workplace is a huge problem all over Ontario. One out of every five workers has been faced with inappropriate treatment because of their disability. This includes being overlooked or ignored when applying for jobs and having lower wages when performing similar tasks!
A big reason is the lack of awareness by employers. The Ontario government has taken a step forward to make it easier for people with disabilities by passing new legislation that will protect them from discrimination at work.
A significant change allows workers who experience chronic pain or mental illness as symptoms of their disability can now demand accommodation like flexible hours. Worksafe employers must provide this relief if employees ask without displaying any negative attitude towards these requests.
For more information and to submit your essay, visit the Cariati Law website today. Please be sure to read the submission requirements.
Don't miss your chance to earn money for school – submit your essay now!
#collegescholarshipprogram #cariatilawcollegescholarship #personalinjurylaw